About
The UBC focuses on providing business and professionals with services and resources to foster growth, create jobs and develop a prosperous economy. The UBC's present facilities were built in 1987 with donations from private businesses. The UBC has an impressive history of serving private enterprises and public organizations throughout California's Central Valley.
To find out more about our facility, please follow the Room Rental link on the left. We also offer professional development opportunities including business development services, customized corporate training programs, and business education.
---
Room Rental
Facilities
The University Business Center (UBC) provides a variety of functional meeting spaces for events and conference style meetings. The UBC is ideal for most any meeting occasion. Our staff is available to assist you in planning your next event and ensuring its success. The 10,000-square foot center offers a wide spectrum of services for meetings, conferences, and professional development seminars. You may choose from several room sizes and seating plans to best suit your needs. There are five areas available for rent, please view the photos for space details and descriptions.
---
How to reserve a room
Please contact the UBC at (559) 278-2352 to check for room availability. After you have received confirmation that the room is available you will need to complete one of the following applications. Please select the appropriate application:
---
Pricing
If you are interested in room rates for your reservation please select the link corresponding with your status (on campus or off campus entity):
---
Rooms Available
Alice Peters Auditorium (PB 191) - 125 capacity
Executive classroom (PB 192) – 44 capacity
Multi-purpose classroom (PB 194) – 42 - 89 capacity (depending on set-up)
Conference room (PB 182) – 8 capacity
Gottschalks Gallery - 150 capacity
Duncan Patio - 200 capacity
All rooms are equipped with free wireless Internet access (upon prior request) and are available for usage from 7:00 am - 10:00 pm.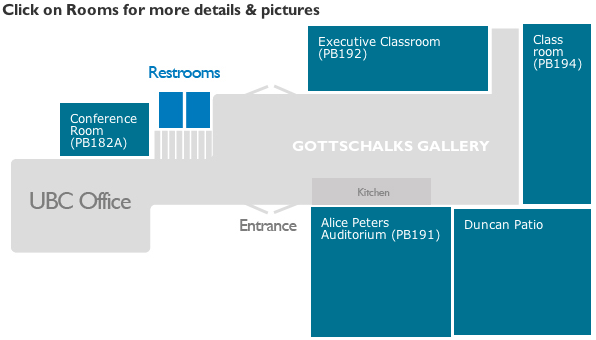 ---
Location
The UBC is conveniently located between Highways 41 and 168 on the Fresno State campus. The UBC is an easy 10-15 minutes drive from most locations with the Fresno area such as downtown, Clovis, airport, Amtrak and Greyhound. The UBC staff offers full-service conference planning assistance. Our 10,000 square foot Center is ideal for your next conference or seminar!
You can click here for campus map.
To learn more about Fresno please visit the Fresno / Clovis Convention and Visitors Bureau.
---
Catering
If you are planning on having food or refreshments at your event these requests have to go through University Food Services. Please contact them directly for all your catering needs at (559) 278-3904.