Upcoming Events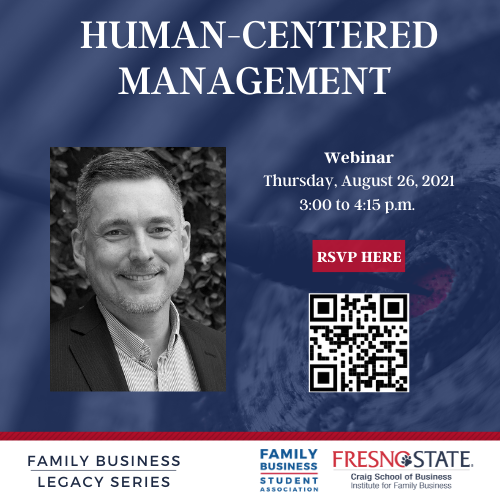 Upcoming Events

| Event | Date | Time |
| --- | --- | --- |
| Human-Centered Management (webinar) | Thursday, August 26, 2021 | 3:00 to 4:15 p.m. |
Past Events
Family Business Succession Planning Through ESOPs (Employee Stock Ownership Plans)
RSVP at: bit.ly/IFBrsvp
CMTC Presents Funding Opportunities for Family Businesses
Join us for a conversation with Craig Scharton with the California Manufacturing Network as he describes funding opportunities available for family businesses engaged in the production of goods and services.
COVID-19: Tax and Financial Opportunities to Navigate Family Businesses through Uncharted Waters
Join the IFB online on April 21st as Moss Adams discusses new COVID-19 legislation that supports family businesses. Learn about tax and financial opportunities available to support you during this time.
Available Resources and Downsizing Options to Sustain Your Family Businesses Amid COVID-19
The Institute for Family Business in collaboration with the Fresno Regional Workforce Development Board will virtually host Sierra HR Partners Inc, the Small Business Administration, and the Employment Development Department to help family businesses learn more about the immediate resources available during this COVID-19 emergency. The panel will also provide compliance guidelines and tips to follow in case your business must make the difficult choice to reduce its workforce.
Pass The Business, Please: How to Successfully Transition the Family Company to the Next Generation
In her presentation "Pass the Business, Please" founding partner of Evolve Partner Group, LLC, Lois Lang, Psy.D., will discuss the most common pitfalls that derail family businesses and offer solid strategies for avoiding them. And by following the journeys of three real-life family companies, you will see what to do, what not to do and how to correct course midway to ensure your company's success.
2020 Employment Law Update
Join California State University, Fresno Alum, and Partner at Sagaser, Watkins & Wieland PC, Paul J. Bauer as he shares important 2020 changes to employment law that affect family businesses. Topics include:
AB 5: Independent Contractor v. Employee Status
Employment Arbitration Agreements
FEHA Claims: Extended Statute of Limitations and Racial Hairstyles
No-rehire Provisions in Settlement Agreements
Lactation Accommodation
California Consumer Privacy Act (CCPA)
Labor Code Wage Claims and Penalties
Organ Donation Leave
Harassment Training Requirements
Use of Workforce Analytics for Competitive Advantage in Family Business
Join Sam Geil, President of Geil Consulting, and a panel of Central Valley business executives as they share their firsthand experience using Workforce Analytics in their talent acquisition and retention to stay competitive.
2019 Family Business Winter Social
Meet our new board members as we share our vision for the upcoming year. Eat, drink and be merry in celebration of the holiday season with Central Valley business owners and advisors, Fresno State faculty and students, and other community members!
2019 Family Business Tax Workshop
Featuring financial professionals from Weibe Hinton Hambalek, LLP, the 2019 Family Business Tax Workshop will help you identify which tax strategies make sense for you and your business with the goal of minimizing your taxes in the new tax environment.
30th Annual California Family Business Awards
You can find more information on this years CFBA winners by visiting our awards page.
Cyber Security: Practical Steps to Help You Secure Your Business
Jesse Gibson of M Cubed Technologies will provide a workshop focused on what businesses should be doing from a cybersecurity perspective and look at real-world examples of security breaches and how they were managed.
Generational Transitions



This month's workshop features Valley Lahvosh Baking Company, a prominent family business in the valley for almost 100 years. You will hear stories of how they made it through the family generations in a competitive industry.
2019 Employment Laws
Come join us for our first event of the year where you'll learn about recent changes in the law from a legal and human resources expert, Michelle Littlewood, Esq. We will cover new legislation and tell you how it will impact your business.
Thank you to our Gold and Silver Sponsors



Legacy Members
Fred & Mitzie Ruiz
Johanson Transportation Services
James G. Parker Insurance Associates
Steven Deis
J. D. Heiskell & Company