Sustainable Development Goal 1: No Poverty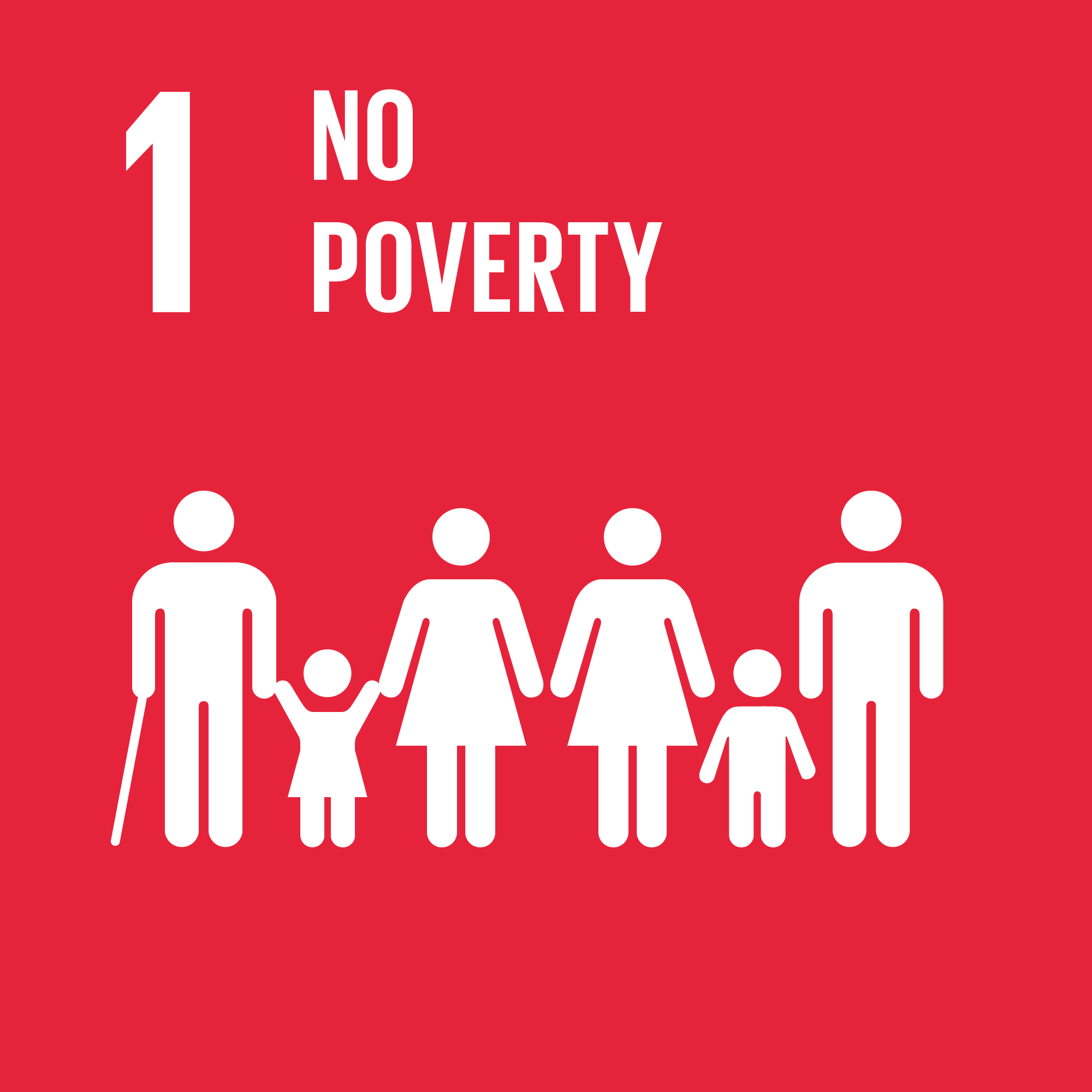 Ending poverty is a fundamental first step to creating a sustainable world. Fresno State is committed to fighting poverty among our student body, in our community and region, and in the wider world.
Fresno State's academic mission is boldly educate and empower students for success. An education at Fresno State is for many students the key to accessing the tools and opportunity to lift themselves from poverty.
Fresno State is particularly committed to providing educational opportunities to including people with disabilities, indigenous people, migrant workers and first-generation students, students who are unhoused and in need of food and shelter, and people of underserved communities, underrepresented minorities and sexual identities.
Fresno State Anti-Poverty Initiatives
The Fresno State Food Security Project was launched in 2014 to support students who may be experiencing food insecurity or other challenges that could inhibit their academic success. Initiatives included in the Project are the Amendola Family Student Cupboard, CalFresh nutrition assistance program application assistance, and nutrition education and budgeting workshops. The Student Cupboard is a free food and hygiene pantry (including diapers) for current Fresno State students and is funded by monetary as well as food and hygiene donations.
Originally established at one of our sister campuses and implemented at Fresno State,
Project Rebound
provides support for students and potential students who were formerly incarcerated. The program focuses on reducing recidivism and victimization by helping establish pro-social pathways.
The
Renaissance Scholars
program is dedicated to being a one-stop shop offering services and referrals for current or former foster youth, unaccompanied homeless youth, orphan youth and other independent youth attending Fresno State.
TRIO Student Suport Services
provide undergraduates (i.e. resilient first-generation students, students from low-income backgrounds, and students with disabilities) with academic support, financial aid literacy/education and graduate school preparation support to ensure every individual's successful retention and graduation.
The
Good Samaritan Grant
provides financial support to meet basic needs of students who have unanticipated financial roadblocks that can impact degree completion and well-being.
The Lil Bulldog Boutique was created to be a clothing resource for students with children and is designed to both lighten the financial burden of purchasing clothes and improve the sense of belonging for student parents at Fresno State.
Students who are enrolled in classes at Fresno State can receive up to one box of free diapers (sometimes more depending on the demand) each month for any diaper-wearing child in the household.
Initiated in 1994, with support from the National Science Foundation, the California State University
Louis Stokes Alliance for Minority Participation
(CSULSAMP) Program is a comprehensive statewide project dedicated to increasing the graduation rate among students who have faced or face social, educational or economic barriers, attending Fresno State and the other 22 campuses within the CSU System, studying for baccalaureate degrees in science, technology, engineering and mathematics (STEM) disciplines.
The
Educational Opportunity Program and Special Support Programs
provide an array of services to support first-generation and economically disadvantaged college students. These services are designed to create an environment that fosters a sense of community, promotes integration into the university, encourages use of campus resources, and guides students to achieve their academic, career and personal goals.
The
Office of Black Student Success (OBSS)
is committed to providing supportive services that foster the transition and integration of Black students into the University as they achieve academic and personal success.
The
Health Careers Opportunity Program (HCOP)
was established to assist and support students who have the desire to become doctors, dentists, pharmacists and other health care professions. Student participants also share a goal to give back to the communities in which they grew up.
A resource that helps students get ready for future employment opportunities is the
Clothing Closet
. This resource is designed to enhance students' job success by providing students with the proper and professional clothing attire needed for an interview, career fair, and first jobs. The Clothing Closet relies on donations of gently used business attire as well as cash donations that go towards commonly requested items. Fresno State students are able to choose up to three pieces of clothing per year.
Across Fresno State's campus, students have the opportunity to choose from
many different job options
in department offices, campus centers, farm enterprises, and other locations. Students can work up to a maximum of 20 hours per week during the academic year and up to 40 hours during the summers. California State University, Fresno has found that students employees are more engaged with campus activities, excel in their academic endeavors, and have a higher graduation rate.