Craig School of Business Advising Center
The staff of advisors at the Craig School of Business Advising Center help business students identify and schedule appropriate courses necessary to satisfy university, business school, and option graduation requirements. The office also helps students with various administrative issues including declaring a business option, articulation of courses taken at other universities, clearing prerequisites to allow enrollment in restricted courses, and guiding students regarding academic probation (including readmission).
Until the end of Spring 2021, the Advising Team will be advising via zoom and phone calls. All walk-in sessions have been postponed until Fall 2021. We will have a virtual front desk every Wednesday afternoon from 1:30-2:30. This will be for quick questions (no holds will be lifted during this time).
Wednesday Virtual Front Desk:
Join Zoom Meeting
https://fresnostate.zoom.us/j/89828432445
Meeting ID: 898 2843 2445
Students have been assigned to the advisors via their last name. Please see the breakdown below:
Advisors List

| Advisor | Alpha Break Down | Email |
| --- | --- | --- |
| Robin Harper | A - D | rharper@csufresno.edu |
| Catherine Kuchar | E - LOP | ckuchar@csufresno.edu |
| Danielle Quiroga | LOQ - RUI | dquiroga@csufresno.edu |
| Lily Oceguera | RUJ - Z | loceguera@csufresno.edu |
Please email your advisor directly to schedule an appointment.
To schedule an appointment, please email the following information:
1. A range of days and times that will work for you:
For example: Mondays and Thursdays from 9am-10am, 2pm-3pm
2. Your Fresno State Student ID number
3. Your preference for Zoom (video) or a phone appointment (we will try to accommodate your request, but it is not guaranteed)
4. A reliable phone number to reach you
5. Please include your Catalog Year and Major/Option
6. A detailed reason for your appointment request.
If all information is not included in your email, an appointment will not be scheduled.
If you wish to meet with a different advisor than the one you have been assigned to, email that advisor directly indicating you wish to meet with them.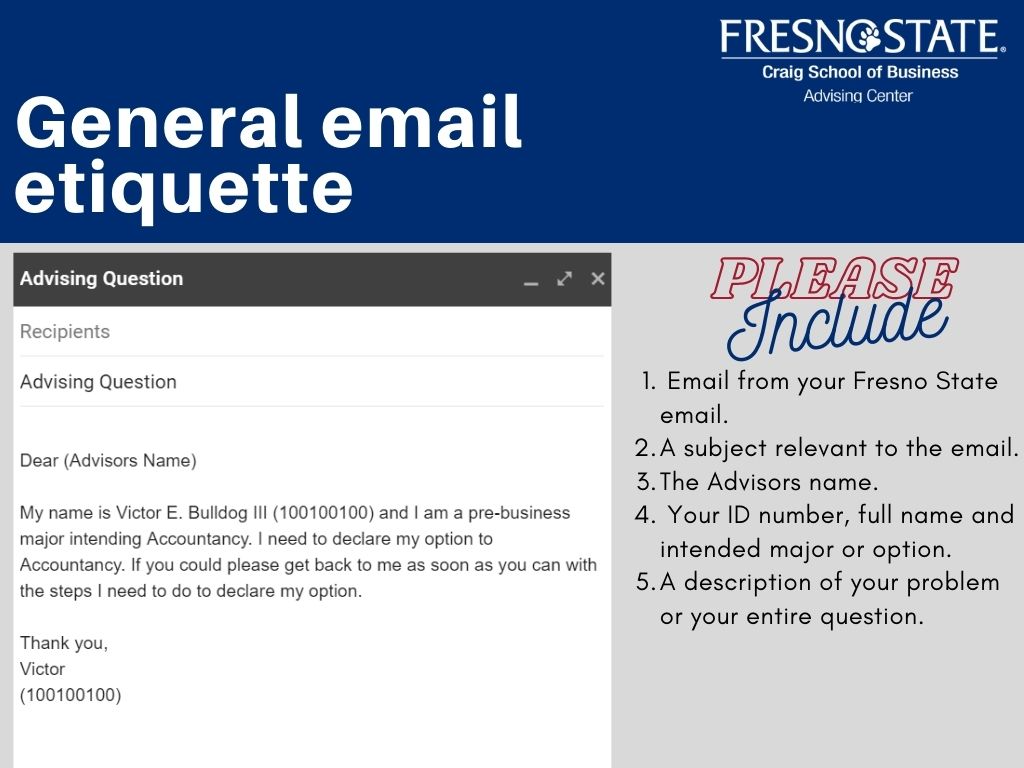 Commonly used links: