Lyles Center for Innovation and Entrepreneurship
University Programs and Services
Interdisciplinary Entrepreneurship Thrives at Fresno State


Johanson's Entrepreneurship Faculty Fellows (formerly Coleman Faculty Fellows) reside in schools and departments throughout Fresno State. They have incorporated elements of entrepreneurship learning into their curriculum with the goal to inspire students in all disciplines to apply knowledge in support of the entrepreneurial mindset. Today, an active collaborative network of 20 full-time Faculty Fellows is placed throughout the University integrating an entrepreneurial mindset into their teaching.
Click Here to learn more and view the Spring 2023 Workshops!
For more information, please contact Anna Borgeas: aborgeas@csufresno.edu.

The Lyles Center Student Hatchery offers students support and office space to work on their business while attending school. Students receive access to mentoring resources, physical office space and access to other facilities e.g., use of boardroom and classroom space - limitations apply.
Hatchery students receive one-on-one coaching from the Entrepreneur in residence and access to the Digital Transformation Hub. Students will receive coaching in areas of legal, accounting, intellectual property development, and general business management.
Or contact Nelson Sebra, Entrepreneur in Residence: nelsonsebra@gmail.com .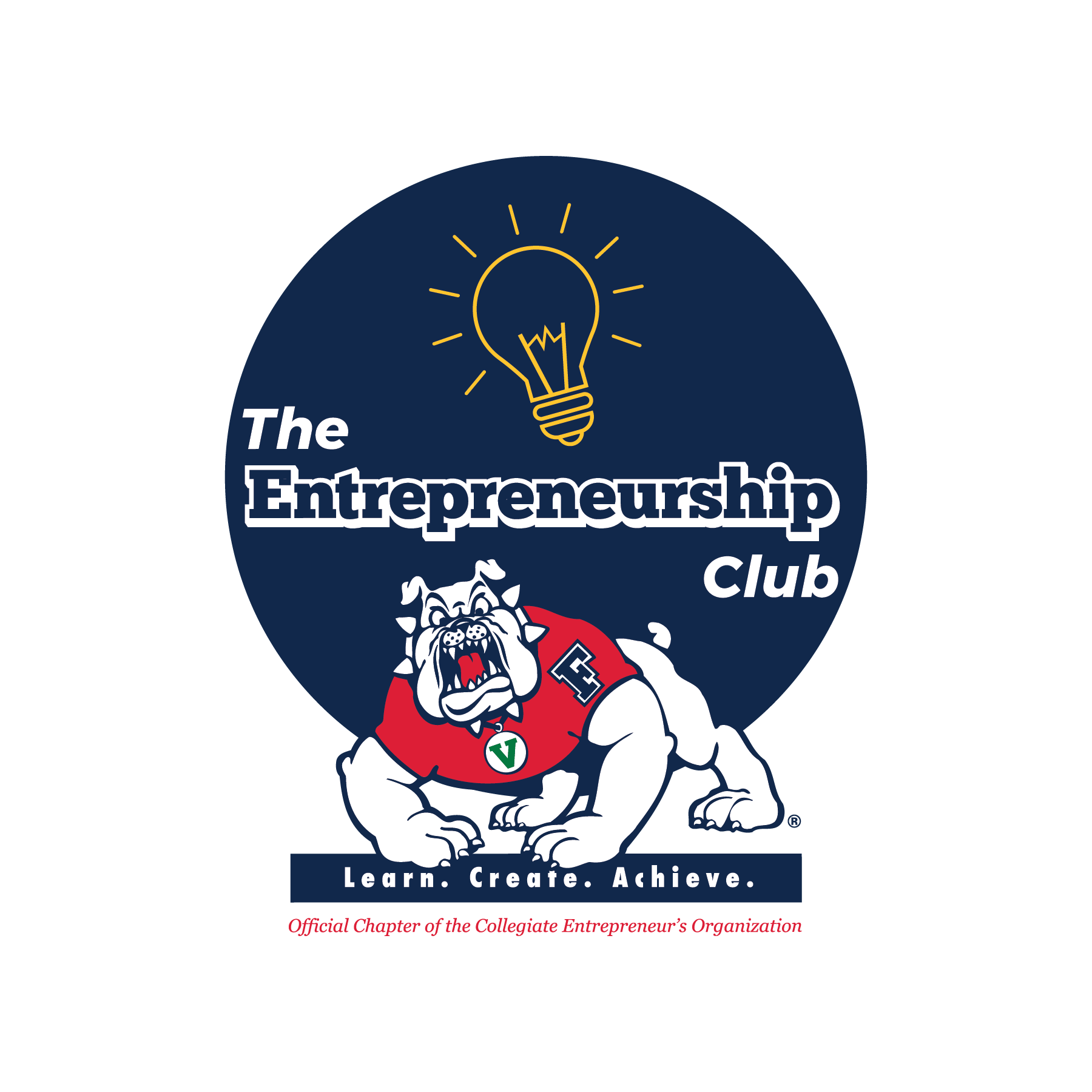 The Entrepreneurship Club, an official chapter of the Collegeiate Entrepreneurs Organization (CEO), is a student organization at California State University, Fresno. Housed in the prestigious Lyles Center for Innovation and Entrepreneurship, our goal is to promote entrepreneurship and the development of student-run enterprises.
As a member of The Entrepreneurship Club you will have access to the many tools and resources of the prestigious Lyles Center for Innovation & Entrepreneurship, located on the second floor of the Student Recreation Center. The Lyles Center offers the tools, people, programs, support and advice to help you create a sustainable business of your own.
We have a network of young, talented, like-minded individuals working together to create a better future. Many of our members have gone on to start their own businesses but it's not a requirement. Maybe you don't want to start a business right away, no problem, the skills and relationships our members develop have also lead to great internship and job opportunities with companies like Gallo, Bank of America and Pepsi.
Click here to view the Entrepreneurship Club's Facebook page
Click here to view the Entrepreneurship Club's Instagram page
Or contact the Lyles Center for Innovation and Entrepreneurship for more information: (559)278-3735.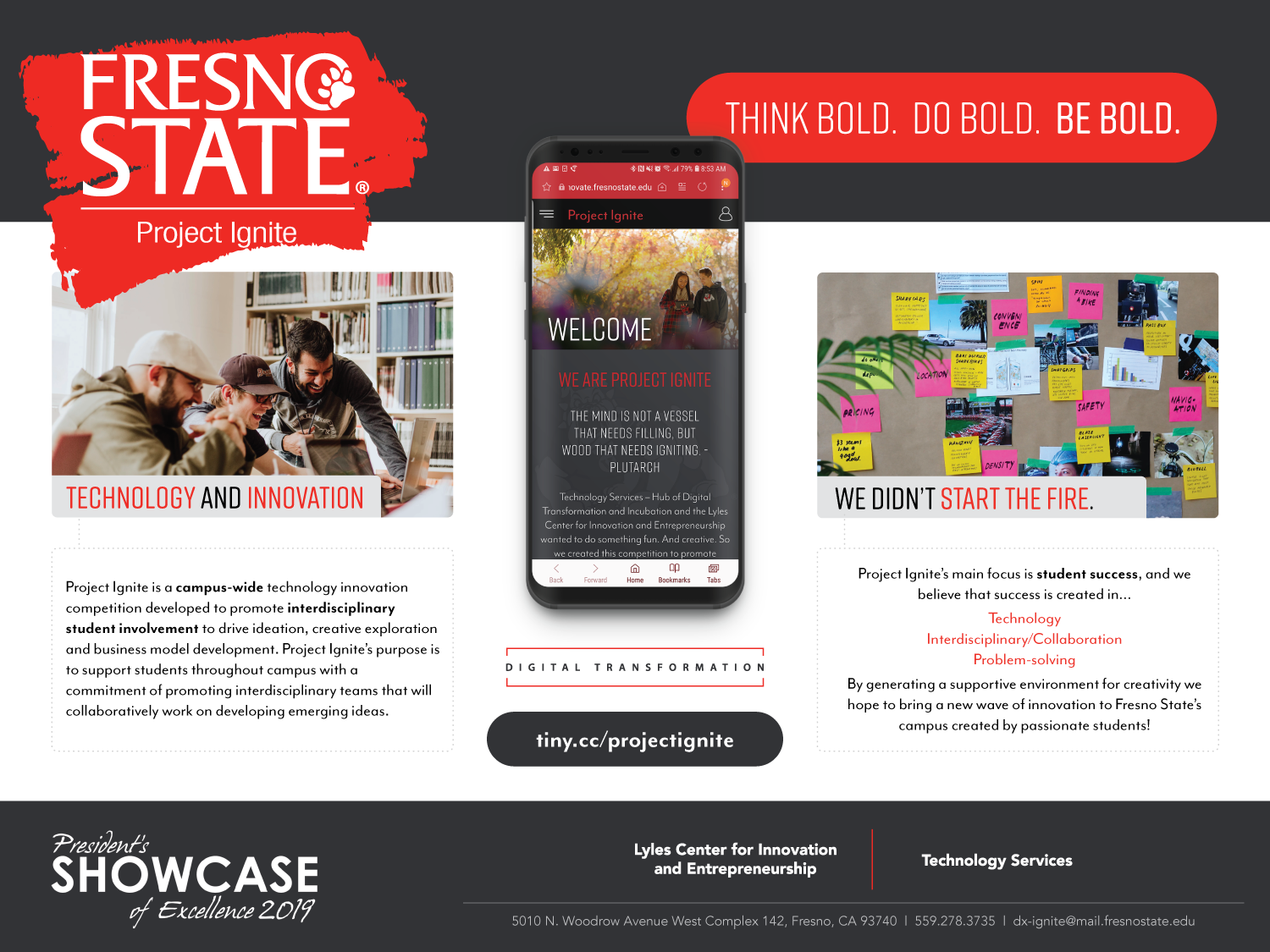 In technology innovation, digital skills are a crucial part of preparing students for the workplace. But as technology advances, skills such as collaboration, communication, and creativity are becoming just as critical. It is important for students to develop and identify these skills in solution development frameworks to better adapt to changing workplace expectations. A platform such as Project Ignite provides students with the opportunity to connect their ideas, interact with diverse perspectives, and gain experience in all areas of solution development.
Intrapreneur In Residence - Mendy Laval


As the Lyles Center's first-ever Intrapreneur in Residence, Mendy Laval provides students with invaluable guidance and insights on implementing an innovative culture and entrepreneurial skills in a corporate setting.
Born in Fresno, Calif. and raised in a family of entrepreneurs, Mendy Laval is no stranger to the entrepreneurial spirit. After high school she attended the University of Southern California, majoring in international relations and history. Following USC, Laval attended the Thunderbird School of Global Management, allowing her to blend her love for international business and cross-cultural communications. As the self-described Queen of Internships, Laval grabbed every opportunity she could, graduating with a master's degree in international management and a great deal of experience working with many cultures in a variety of environments.
Laval launched her career at Computer Power Systems, a division of Emerson Electric, where she helped develop the international arm of the company. She eventually moved to Dalgety Produce, where she established partnerships with importers throughout Asia, with a focus on Japan.
In 1991, Laval moved back to the Central Valley to join the Claude Laval Corporation, working side by side with her father, Claude Laval. Initially focused on growing the international operations, Laval became president in 1997 and helped the company double its revenue and profitability.
In her time there, Laval worked to keep the entrepreneurial environment her father created alive.
"When you think about it, people that possess an entrepreneurial mindset are really needed in corporations," Laval said. "They have really good ideas that need to be listened to. How do you create a forum to do that, without creating chaos as you get more employees? You have to have some structure but only enough, I always say, to not collide in the hallways. You've got to work every single day at that culture."
The Claude Laval Corporation was acquired by Lindsay Corporation in 2013. Laval remained with the company to ensure a smooth transition. In 2015 she became a strategic advisor for Lindsay Corporation and their Fresno-based business unit.
As Intrapreneur in Residence, Laval recalls her international-focused career to advise students on the ins and outs of corporate entrepreneurship. "There are so many ways to do everything. You just have to find the way that is going to work. I think that has its roots in entrepreneurialism. You can take that whole skill set and apply it in many different areas. Whether you want to start business and build an organization around it, or you want to work for an organization and help that organization meet its long-term goals."
In addition to her work helping students navigate the corporate world, Laval is an enthusiastic member of the community. She is especially passionate about Valley Children's Hospital, where she served on the Board of Trustees for 11 years and held the position of President of the Board. She is also a member of La Feliz Guild of Valley Children's Hospital, currently serving as the Guild President. Laval has served on the Board of Directors of the Fresno Metropolitan Museum of Art and the Better Business Bureau, and was a member of Leadership Fresno, Class XI.
Laval and her husband of 21 years, Khaled, have one daughter, Ellery.
To contact Mendy Laval, please email laval.mendy@gmail.com.
Entrepreneur In Residence - Nelson Sebra

As the Lyles Center's Entrepreneur in Residence, a prominent entrepreneur is selected to supervise the Student Hatchery, lecture in Fresno State classes, conduct seminars and act as the link between the Lyles Center and entrepreneurial leaders of the Central Valley.

Nelson Sebra is currently in his eleventh consecutive year as the Lyles Center's Entrepreneur in Residence.

Sebra was born in Florida and resided there until he graduated high school. He then moved one state north to attend Valdosta State University in Georgia. Upon graduation, Sebra entered the U.S. Air Force and embarked on a 23-year career. During this time he flew several models of fighter aircraft, accumulating approximately 4,500 hours of flight time. He is also the recipient of numerous awards for his time with the Air Force, including the Meritorious Service Medal, Distinguished Service Medal and Air Force Commendation Medal.
Sebra received his Master's in Public Administration from the University of San Francisco and has been the lead in nine startup businesses, ranging from a restaurant to a hazardous waste treatment company. As the Entrepreneur in Residence, Sebra taps into the knowledge he's amassed through these ventures to mentor students whose businesses are housed at the Lyles Center Hatchery. He enjoys the interaction with each student, Sebra said, and sharing experiences that would be difficult for them to gain otherwise.

Sebra serves as a part-time faculty member at Fresno State teaching Managing the New Venture (ENTR 155) and New Venture Laboratory (ENTR 157). In May of 2013 he received the Entrepreneurship Education Excellence Award. The following month the Creativity Lab at the Lyles Center was renamed "SEBRA's Think Tank" in his honor.

In addition to his work with budding entrepreneurs, Sebra is dedicated to serving the community through various service organizations. He has been a member of Rotary for more than 25 years. He was in Class 1 of Leadership Fresno (LF) and later served on the LF Steering Committee for 16 years. He also served on the Board of Clovis Junior Soccer League for 16 years, was a cofounder and board member of the Fresno State Water Polo Boosters and has served in numerous other organizations.

Sebra and his wife of 50 years, Paulla, have two children and four grandchildren.
Previous EIRs:
N. Sebra (2010 - Present)
J. Jacobson (2009)
S. Graham (2008)
L. Young(2007)
Y. Rico(2006)
R. Strahan(2005)
J. Hughes (2004)
R.Houghten (2003)
M. O'Brien (2002)
E. McAfee (2001)
G. Cocola (2000)
W. Lyles (1999)
B. Musick (1998)
To contact Nelson Sebra, please email nelsonsebra@gmail.com .