Laval Entrepreneur Mentor Program
President Castro Visits Laval EMP Students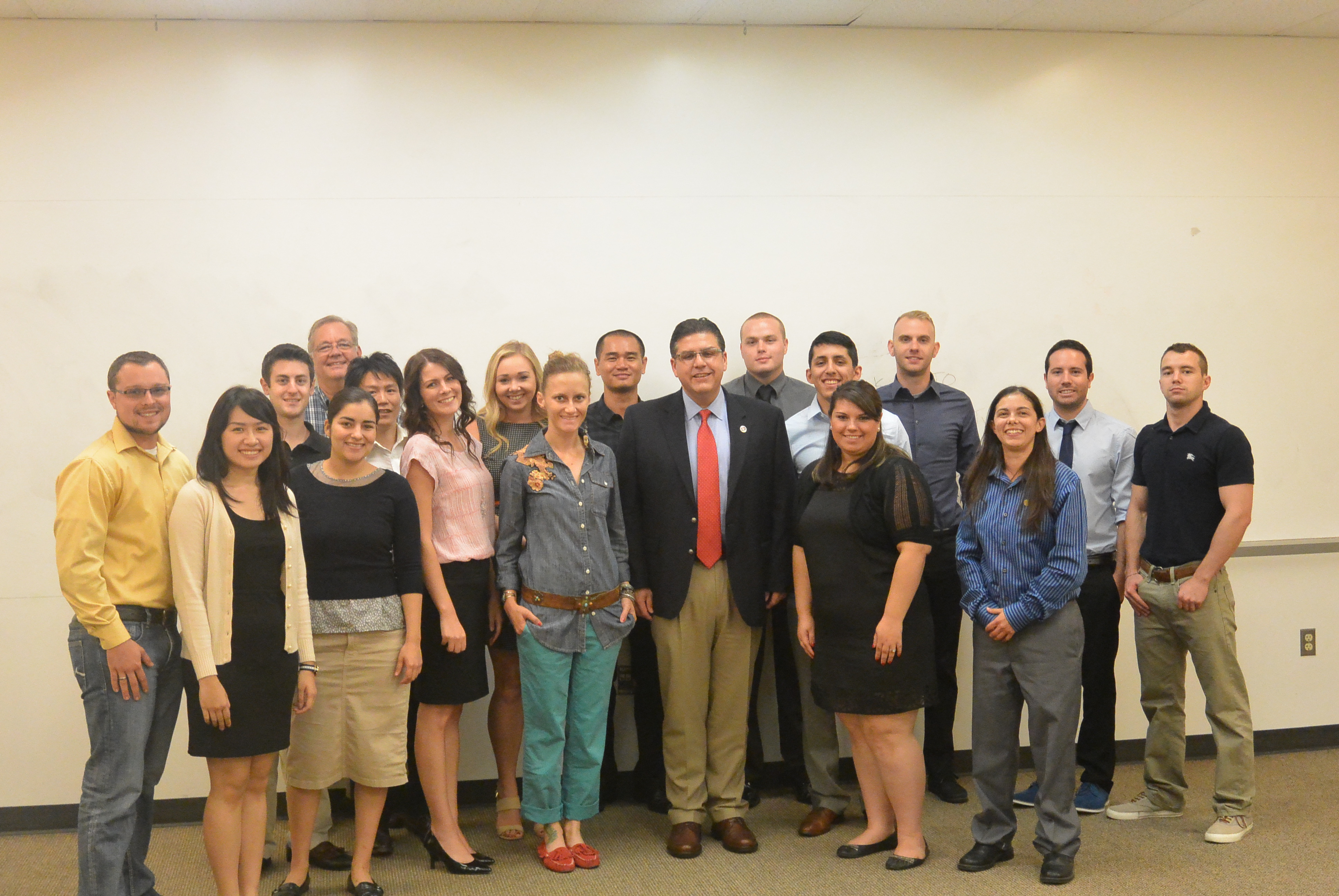 By Amanda Perez
The Laval Entrepreneur Mentor Program students had the privilege of welcoming President Castro of Fresno State as their guest speaker this week. Dr. Castro is the first Fresno State President originally from the central valley, being born and raised in Hanford, CA. He stated, "It's in my backyard, this Community has shaped me and that's why I came here, even though its tough, its meaningful and gratifying as challenging as it can be." He also mentioned that he was the first person to graduate from college in his family, relating to many students at Fresno State. President Castro received a B.A. in political science and M.P.P. in public policy from University of California, Berkeley and Ph.D. in higher education policy and leadership from Stanford University. Preceding his appointment as President of Fresno State, he served as Vice Chancellor, Student Academic Affairs at the University of California, San Francisco (UCSF).
President Castro opened by speaking with the students and asked the question, "What should Fresno State look like?" Students had the opportunity to share their vision of the future of Fresno State. Students shared how to creatively make Fresno State the best university using their entrepreneurial background. They mentioned developing programs, such as more summer programs, to reach students all over the valley to bring more awareness of Fresno State and its offerings. President Castro added, "I want to make Fresno State the most compelling option for the students, I want Fresno State to have a signature representation, that it's the 1st choice for students in this valley to come here." We continued to talk about how to creatively keep central valley talent here, how to build a greater sense of community, and how to create more opportunities for students in the valley by offering more online options.
President Castro closed by giving the Laval Entrepreneur Mentor Students helpful words of encouragement for their entrepreneurial journey stating,
"Being courageous, and taking thoughtful risk is a great thing and if we do that collectively Fresno State is going to be a great university. I think it's a great way to approach life, to take calculated risk and do something that really matters to me. The valley needs Entrepreneurs." -President Castro
A special thank you to Piemonte's Italian Delicatessen, that provided lunch for the EMP students on Friday. Piemonte's Italian Delicatessen is a family owned and operated business that has been around for over 80 years. They make quality sandwiches and also sell fresh sliced meats and bread individually. Be sure to visit Piemonte's and try their delicious food. They are located in the Tower District on 616 E. Olive Ave, Fresno, CA 93728.