Laval Entrepreneur Mentor Program
Insights from President Castro
September 16, 2015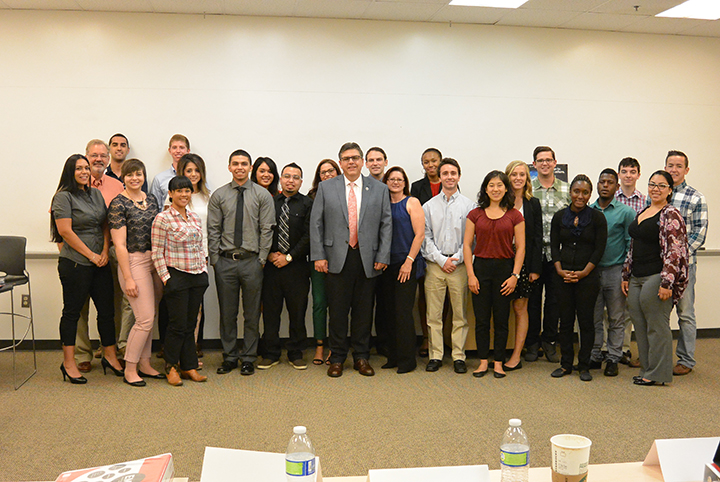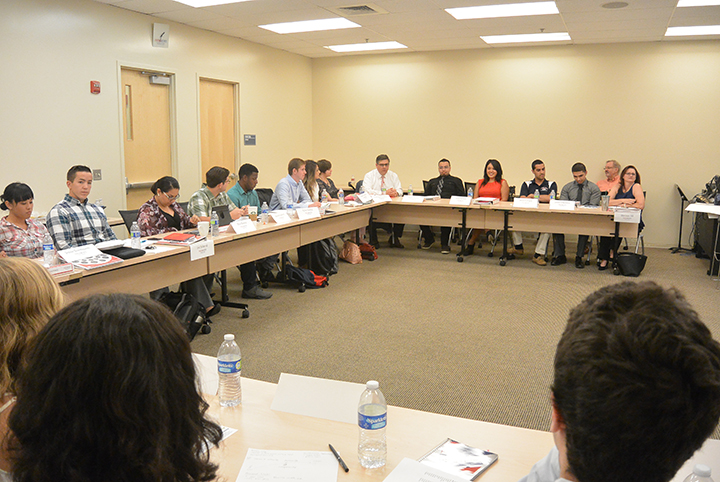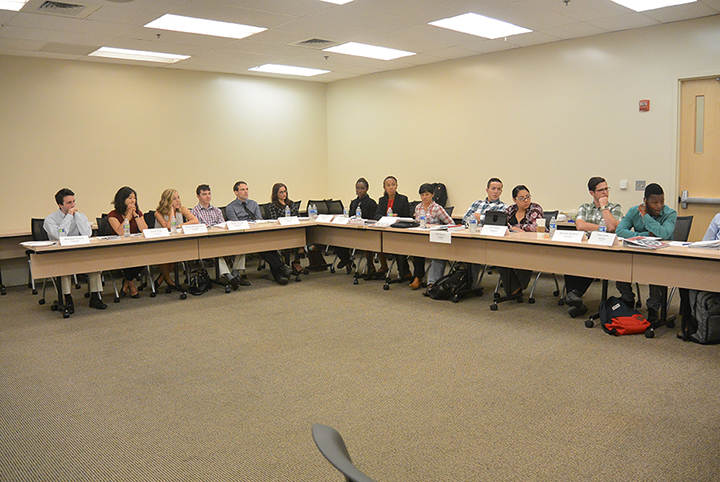 "Listen to your moral compass. Make the correct choice." - President Joseph I. Castro
Written by Eddie Torres:
The third meeting of the Laval Entrepreneur Mentor Program was kicked off with lunch brought by Aubrey Lim. It was a scrumptious combination of rice pudding, cucumber slices, spinach pockets and dolmades (grape stuffed leaves) from local restaurant, Mediterranean To Go.
Each week an EMP mentee shares his or her entrepreneurship journey. This week, Angielee Soto relayed her story to us. It was a heartwarming presentation as Angielee spoke of her background and reinventing herself to become the creative, artistic person she is today. She told the class she considers EMP a small family to share her experiences with, a fact she appreciates.
Fresno State President Joseph I. Castro presented to EMP as the University celebrates its 104th anniversary. I asked him if he believed EMP has impacted students throughout the years, his answer was an emphatic "Absolutely!"
President Castro shared a bit of his own journey with the class. He told us his favorite color is Dodger blue. His first job was cutting lawns and later he worked as a paperboy in his hometown of Hanford, Calif. He said he considered this job a small business, as he had to meet each client to give them their paper and collect payments.
Diversity and excellence is what President Castro wants for Fresno State. He stressed the importance of a high-quality education and wants to be able to do more in support of the University's staff and faculty. "I want to focus on you, the success of the students," President Castro added.
He asked EMP students for ideas and thoughts on a future strategy for Fresno State. President Castro seemed to enjoy hearing our comments and feedback about the University. You can feel his energy in the way he talks. He wants the best for everyone at Fresno State - the students, staff and faculty. President Castro has a vision for our campus and it is clear we are in great hands.