Laval Entrepreneur Mentor Program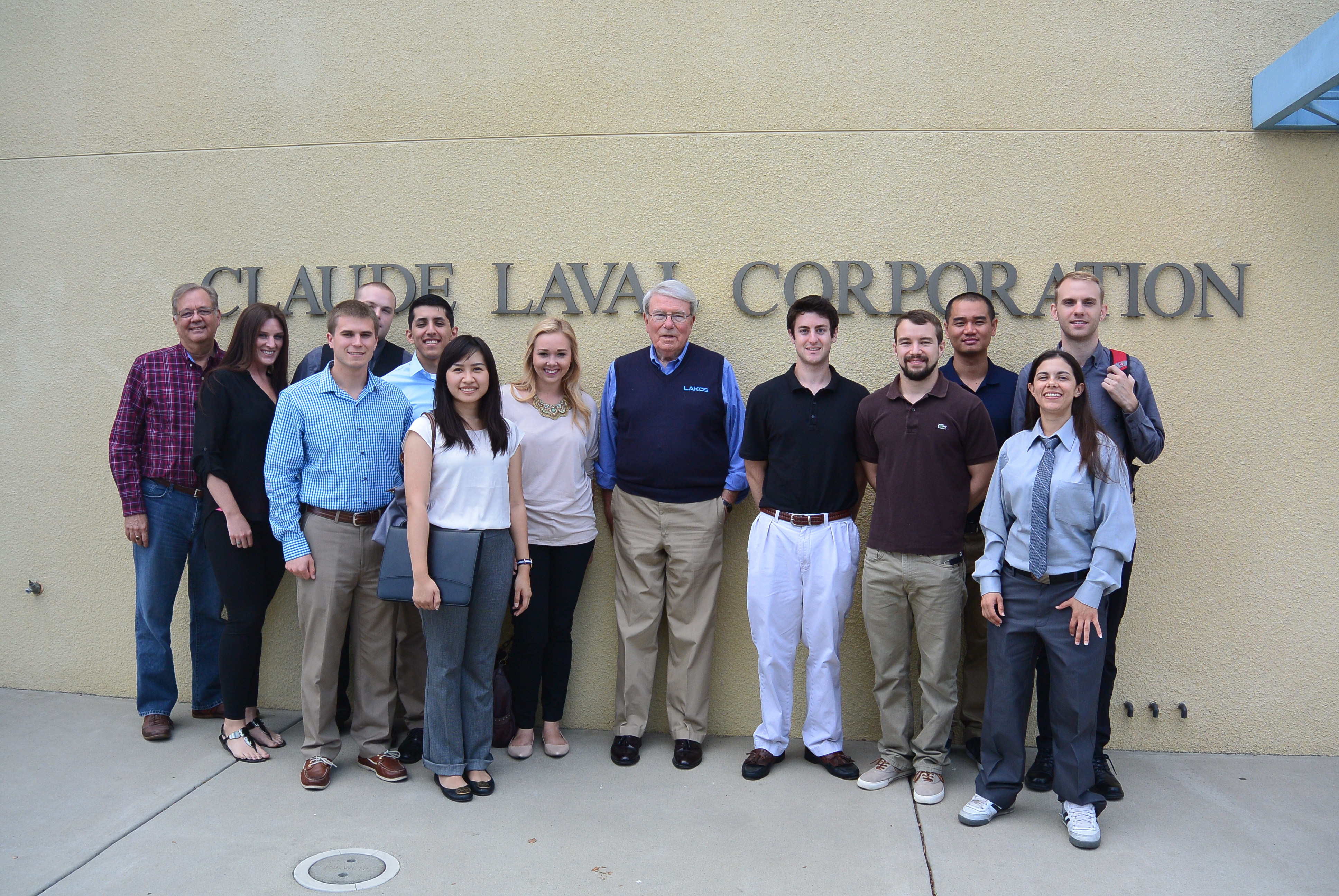 Visiting LAKOS
By: Dak Feaster
"Success is about making quick adjustments, planning carefully, and adjusting to the real world as it evolves" – Mr. Claude Laval
The trip to LAKOS with Claude Laval was a highly educational and inspirational experience for the Laval Entrepreneur Mentor Program. The day began with a presentation by Mendy Laval, daughter of Claude Laval and LAKOS president, about the LAKOS company and its products. Mendy gave everyone from EMP a good understanding about the company's history and how the products work. There was also a demonstration on how the separator products work with a device representing the design and function of the actual product. After the presentation, everyone was served lunch with sandwiches from the local deli chain, Deli Delicious, in the courtyard of the office building. The LAKOS staff sat with EMP students and discussed what their plans were for the future and imparted wisdom on preparing for their journey ahead.
Some background information on Mr. Claude Laval: Mr. Laval is the founder of Claude Laval Corporation and has served as Chief Executive Officer of two publicly traded companies based in the U.S. He serves as the Chairman of Claude Laval Corporation. Mr. Laval created the company LAKOS Separators and Filtration Solutions in 1972 and describes it as his largest business venture.
Along with a full tour of the manufacturing plant, Mr. Laval spoke about LAKOS, entrepreneurship, and answered questions from the EMP students. One lesson taken away from this session was if you are going to be an entrepreneur, you've got to differentiate your product or service from your competitors. Otherwise there will be no incentive for customers to switch to your product. On top of differentiation, it is absolutely crucial you invest a significant effort in marketing your business in order for people to know it exists and to know benefits it offers. Claude Laval explained, ""If you're going to be an entrepreneur you've got to find a gimmick, angle, or differentiation from what everyone else has to offer, and once you've done that you must spend an enormous amount of marketing time convincing people you're differentiation is worth what you are asking for." It is so much more difficult and dangerous in entrepreneurship to introduce a "me too" product and expect it to sell well. Mr. Laval went on to say, "Conventional wisdom is: if you build a better mousetrap, the world will be a path to your door. That is completely nuts. You can build a better mouse trap, but if you don't have any way of telling anyone about it, or better yet convincing them there's a better way, nothing happens."
Another lesson learned is that having a team who compliments your strengths and weaknesses is very important in entrepreneurship. Mr. Laval turned to the students and honestly said, "Any entrepreneur I ever ran into has had one strength or another, but didn't have them all. You really need to have a balanced approach. Get the very best people on your team to contribute to the areas you're not as strong in. It's hard to think of an entrepreneur I know who is so good at all aspects (marketing, accounting, logistics, etc.) where they performed them all themselves and it all worked out perfectly. So it's really important to be honest with yourself about what your strengths and weaknesses are and get the best team to compliment your business". It is also a very good idea to have an advisory board of business professionals, not necessarily in the same industry who can help advise you with no legal liability and who won't be insulted if you don't take their advice at times.
In addition, the EMP students gained insight on intellectual property from Mr. Laval. Patents are important for many business ideas, but they are not as crucial as other forms of intellectual property such as trademarks and trade names. Not only are patents very expensive to obtain, they are often quite difficult and costly to defend. "A patent is just a good place to start", Mr. Laval explained, "As many have indicated a trademark is more important because it isn't as expensive to defend it. It is either your mark or isn't your mark. Patents are still very important, but other forms of intellectual property are more crucial." It is common if you have a patent on a product, there will be people out there who will steal your idea and implement it in their own business efforts. Litigation will be necessary to defend your patent, but if someone is using your patented idea outside of the country, it will make these efforts even more complicated and difficult because you're going through a completely different legal system. Trademarks are much less expensive forms of intellectual property and a much more straight forward resolution to whether or not someone is stealing your idea, process, recipe, name, etc.
The whole trip to LAKOS was beneficial to the EMP students in many ways. Not only were they able to see how the manufacturing process was carried out for LAKOS separators and filtration systems, but they gained insight on the obstacles and lessons it took for LAKOS to become what it is today. These lessons can be applied to the students' own ideas for their businesses and will hopefully help them avoid making some mistakes of their own during their journey in businesses and entrepreneurship. "Being an entrepreneur is kind of like a high-wire act. You never know quite where you're going to land. If that worries you, you may want to think about another career. Success is about making quick adjustments, planning carefully, and adjusting to the real world as it evolves", Mr. Laval stated.
Mr. Laval and his associates lent much wisdom to the students during the trip for what it takes to be a successful entrepreneur and how to avoid certain obstacles within the process of running and growing a business. As the trip came to a close, Mr. Laval gave the students some encouraging words, "I believe entrepreneurship and Fresno State are important because you students are the best hope we've got in this region. There are a lot of problems in this region and nobody's working on them. If good people from this area flee, it makes matters worse. So anything we can do to help make this a stronger program would be worth doing." The entire LAKOS trip was packed with information and lessons for the EMP students from beginning to end and will surely be of great help when starting and running businesses of their own.