Laval Entrepreneur Mentor Program
EMP Meets Brenda Budke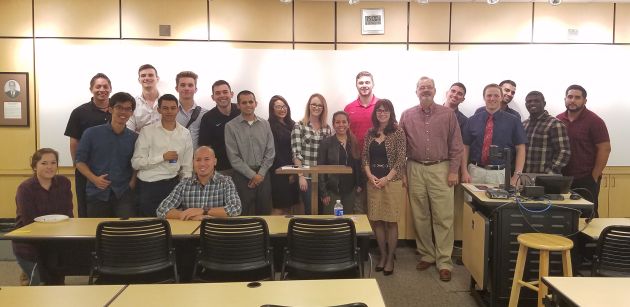 Written by: Qiang Chen
"Integrity, building relationships and delivering results" – Brenda Budke
Last Friday, students of the Laval Entrepreneur Mentor Program (EMP) enjoyed the delicious lunch from Catie Ball's wonderful parents. Thank you Mr. and Mrs. Ball for the delicious lunch!
After our meal, Brenda made an unforgettable speech with many insights into the business world in her presentation. As the executive director of Sierra HR Partners, Brenda has 25 years of rich experience in human resources. After building skill sets and gaining expertise in the corporate world, she started her own business with two partners. She gave us her professional views and advice about human resource management and the way to build a successful foundation of any company. During her presentation, Brenda informed us she considered herself as a "conservative risk-taker."
My fellow mentees and I were able to receive her professional opinions on employment relationship, performance management, and leadership development. Brenda told us "don't ask your employees the question they already know how to answer; which means don't ask them yes or no questions." She shared her personal experience and wisdom about hiring processes in a start-up company. "Hire slow," she says. "Hiring could be a pleasant or terrible time for the company."
Since I want start my own business, I was personally inspired by Brenda's words. I want to sincerely thank Brenda for sharing knowledge about her business and life experiences with us. We wish her all the best.