Laval Entrepreneur Mentor Program
Touring the Westside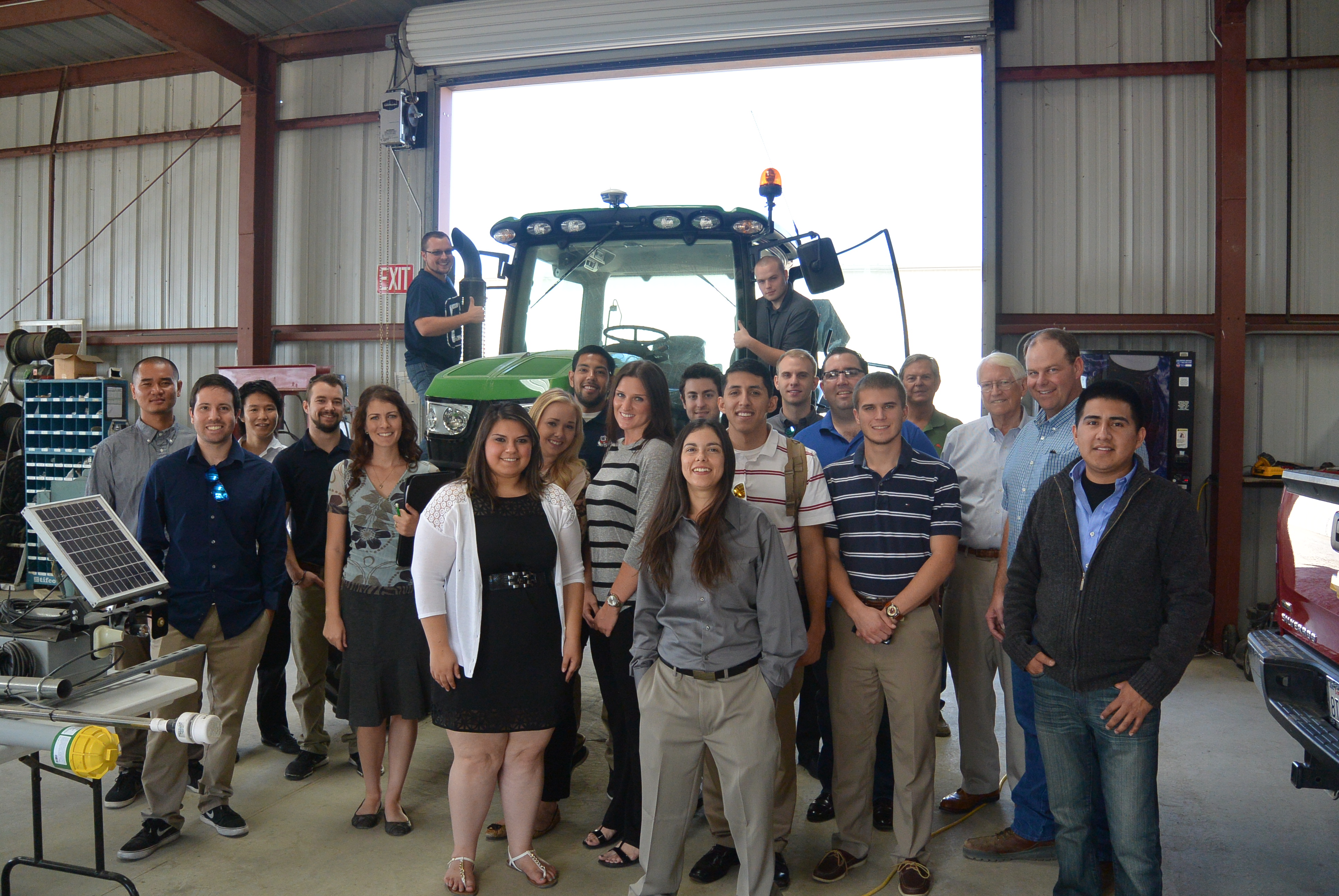 By: Sydney Allred
The EMP students enjoyed a fun-filled Friday last week. They went on their annual Westside field trip, which included lunch at Harris Ranch! Their gracious hosts were Ed O'Neill and Casey Diaz (biographies below).
MEC Kerman
The first stop on the field trip was to MEC Kerman. They design and manufacture twelve different models of aerial work platforms for domestic and international customers. The Aerial Work Platform Division of MEC was acquired by owners of Equipment Parts Wholesale and moved to California in 2002. In 2008, MEC introduced some of the industry's first electric medium and large rough terrain scissors. In order to have consistent high quality powder coat finishing on the MEC machines the company designed and built an in house powder coat facility at the factory in Kerman, California.
MEC sells their machines to retailers who either rent or sell the equipment to their clients. Furthermore, MEC attends trade shows, like the Tulare AG Expo to build their client base. Matthew Gauer, who graciously gave the EMP mentees a tour of the facility, mentioned that he drives the aerial lifts onto flatbed trucks to transport them. He noted that it is scary to drive them onto the trucks, because the flatbed is very close to the width of the lift, but he said "If you know you can do something right, then you should seize the opportunity."
Hughes Farm
The next stop was Hughes Farm. Hughes Farm is operated by Gary Hughes. He takes pride in growing tomatoes with technology that aids him in conserving water. He told the EMP mentees that "every gallon of water is like gold to [him and his son]." Gary installed monitors in his tomato fields that detect moisture levels. He uses drip tape to irrigate his the plants. Drip tape irrigation wastes less water than older methods of irrigation like furrow irrigation. Gary noticed a 30 percent increase of tomato production when he switched from furrow irrigation to drip tape irrigation. He said he previously had an output of 35 tons of tomatoes when he used furrow irrigation, but when he switched to drip tape irrigation he had an output of 50 tons of tomatoes using 200 feet of tape.
Harris Ranch Restaurant
After Hughes farm, the students went to Harris Ranch for a delicious lunch. The Harris Ranch hospitality division includes a restaurant and hotel. The students were served tri-tip steak, barbequed chicken, potato salad, coleslaw, green salad, dinner rolls, a variety of steamed vegetables, and fruit salad. For dessert they were served a chocolate chip cookie with homemade vanilla ice cream.
Harris Feeding Company
After lunch the students went on a tour of the Harris Ranch cattle feedlot. From the time Harris Ranch purchases the cattle they spend 80 percent of their time on green pasture. Then, they are transferred to the feedlot where they eat corn, grains, and hay. The Fresno County farm has been under continuous family operation since 1937. Harris Farms is one of the largest and most productive farming regions in the world.
Harris Woolf Almond Processing
The students left the ranch and went to visit another Harris location – Harris Woolf Almonds. The Chief Executive Officer Joel Perkins, who has been with the company for over ten years, met the students at the beginning of the tour. He explained that almonds are the largest specialty crop in California. Harris Woolf Almond Processing has two locations. The location in Fresno County is an almond handler and the location near Turlock, California processes almond hulls and shells for cattle feed and bedding for flower and blueberry gardens. The Fresno facility processes 60 million pounds per year and the Turlock facility processes 20 million pounds per year. The process that Harris Woolf goes through to grow their almonds begins with planting peach trees and then grafting almond cuttings onto the trees. When the almonds are ready to be harvested machines shake the nuts off of the trees. The life span for a commercial almond tree is 20-25 years. After that the tree usually reduces the amount of almonds it produces.
Producers Dairy Bottling Plant
The last stop of the day was Producers Dairy. Richie Shehadey, Richard Shehadey and Scott Shehadey welcomed the EMP students to the Producers Dairy Bottling Plant. At the plant they not only bottle milk, but they also make and bottle tea and juice. The company has been in business for over 75 years. It is one of the few remaining locally owned, independent dairies in California. There are only four large dairies remaining in California and Producers is one of them. Producers delivers their beverages to retailers up and down the state — from Bakersfield to cities near the Oregon border. Their milk is sold by itself or it is made into different products like: cheese, ice cream, cottage cheese, sour cream and yogurt.

HOST BIOGRAPHIES

ED O'Neill's Background
Ed O'Neill attended Santa Clara University. He majored in Industrial management, but before he became involved with business he joined the Army. As an officer, he rose in the ranks from Second Lieutenant to a Captain in just three years. His military career led him to the state of Virginia where he became a management analyst for the Department of Defense during the Cuban missile crisis.
When he was a young man his father left him out of his will. Mr. O'Neill did not view this as an obstacle for becoming successful, but rather a challenge to become a self-made winner. As a young adult, he demonstrated his strong work ethic by setting a goal to obtain everything his father had by the time he reached the age of thirty. Mr. O'Neill worked diligently to achieve his goal and he succeeded. This level of determination is what he likes to instill in all of the students in the Entrepreneur Mentor Program. He tells mentees to never give up. His reasoning is "If they don't have a solution, it's because they haven't thought of it yet." He adds, "If you quit too soon you'll never solve the problem." His last piece of advice for students is "there's always another way to get to your goal."
As an entrepreneur, Mr. O'Neill acquired and operated a cattle ranch company, a meat packing company, and a rendering plant. He has aided his community by serving multiple terms as the chairman of the Civil Service Board for the City of Fresno; he was on the board of directors of the executive committee of Children's Hospital Central California, and acted as the director of the Hanna Boys Center in Sonoma, California. In addition, he is a member on the advisory council for the Lyles Center.
Casey R. Diaz's Background
Casey Diaz received his Bachelors of Science in Business Administration with an option in Entrepreneurship from California State University, Fresno. His honors include the Dean's List, the President's List, and the Craig School of Business Award for Excellence in Entrepreneurship by Baker, Peterson & Franklin. He is a Vice President at the California Trucking Association, the nation's largest state trucking association, Board Member at the Agricultural Food Transporters Conference of the American Trucking Associations and sits on the Lyles Center Advisory Council.
Casey is the President & CEO of Charles Diaz Trucking, Inc. He is charged with carrying out the vision of the owners to develop CDT into a national trucking company. He oversees and directs the activities of all departments of the Company, including but not limited to Finance, Accounting, Operations, Human Resources, Legal and Regulatory, and Marketing and Sales. Casey is heavily involved in daily operations, decision-making, overseeing management, financial reporting, and human resources. Lately, Casey has taken on an Account Executive role in order to increase sales in multiple modes of transportation. Charles Diaz Trucking has recently become an Authorized Agent of England Logistics, part of the CR England group— the largest private refrigerated transportation company in the United States.