Laval Entrepreneur Mentor Program
William Lyles Pays a Visit to Laval EMP
May 1, 2015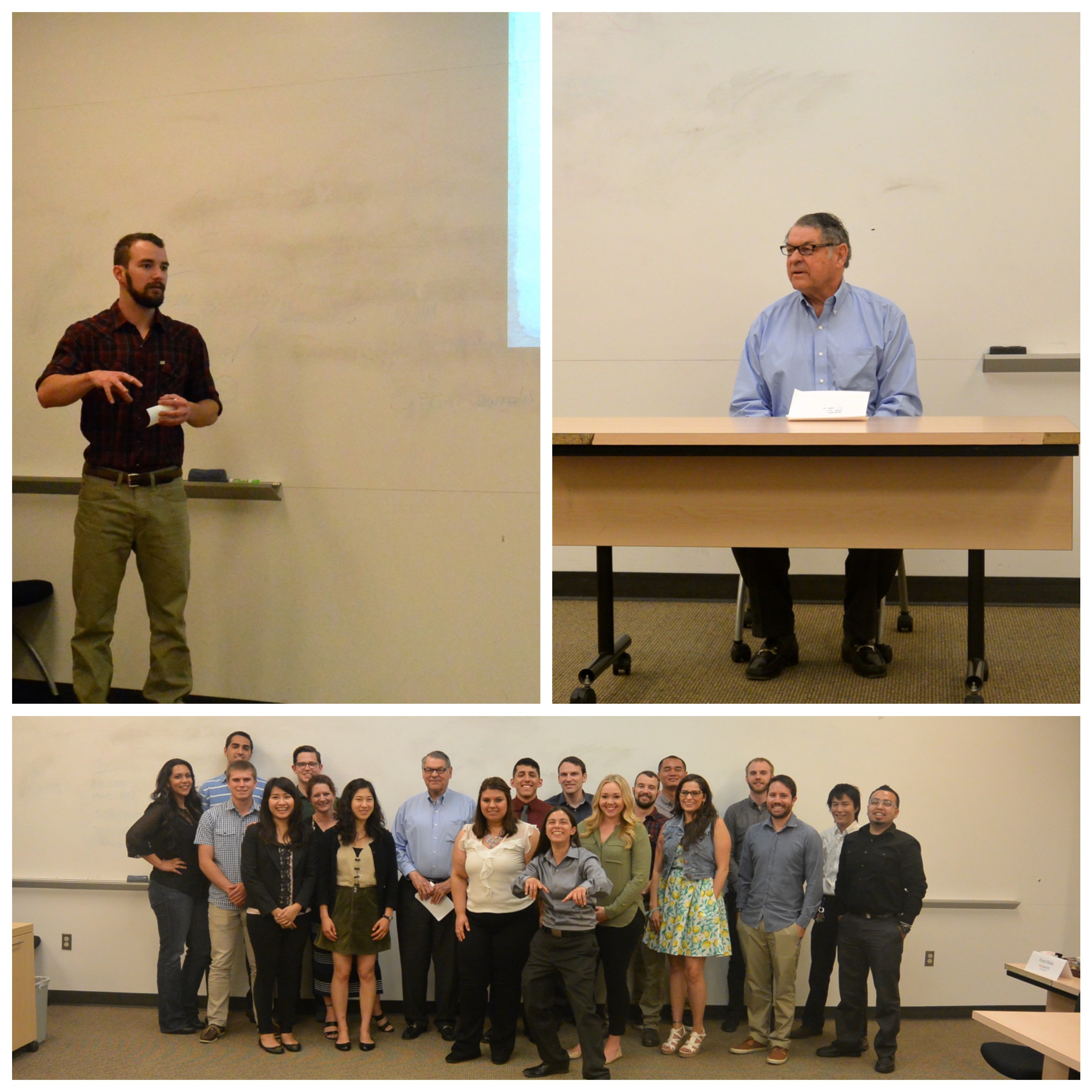 "In today's world, learning is a lifelong process." William Lyles
By Shervin Zoghi
This week of the Laval Entrepreneur Mentor Program, we started class by enjoying pasta from Luna's Italian restaurant, brought to us by Shannon Sill. We then had the pleasure of watching Chather Phillips as he presented his entrepreneurial journey. He approached this through 7 tips he shared for growing as an entrepreneur and individual. He is immensely thankful for everything Laval EMP has done for him, giving him the opportunity to connect with like-minded individuals and develop a sense of purpose.
We then had the distinct pleasure of hosting Mr. William Lyles. His goal for this week's session was to share his life's story with us, and give us advice on becoming successful entrepreneurs. Mr. Lyles is the President of Lyles Diversified, a corporate empire that includes real estate, heavy construction, HVAC, surveillance equipment, agriculture, and more. His entrepreneurial expertise is widely recognized. He also has an extensive track record for philanthropy; he has sat on the Fresno Chamber of Commerce, the Advisory Council of Purdue's School of Civil Engineering, the Board of Directors of the Fresno Opera Association, the Boys and Girls Club, the Fresno Metropolitan Museum, and much more. He has also donated money to the Lyles Center for Innovation and Entrepreneurship as well as the Lyles College of Engineering, both of which are named after him. His generosity knows no limits; Mr. Lyles humbly attributes his successes to a great education at Purdue, an open mind, and a wonderful family.
Mr. Lyles wholeheartedly embraces the title of a lifelong learner, as exemplified by his views that "making mistakes is part of the learning process." The key, he points out, is to learn from those mistakes. Despite his successful track record, Mr. Lyles shared some of his failed ventures and partnerships with us as well. He quickly learned that one can never be "too proud to ask for help." This is something I sometimes struggle with, because I think that people may perceive my not understanding something with incompetence. However, Mr. Lyles adroitly replied that "you must have enough confidence in yourself to know when you need help."
Mr. Lyles also shared many core philosophies that have served him well for the past few decades. His first principle is that you can "risk the branch of the tree, but never the trunk." If you risk a little bit, you won't lose everything and can continue moving forward. This is a surprisingly unique perspective in the business world; many times, we associate entrepreneurs as extreme risk takers who are willing to go broke in their quest for wealth. The key for Lyles when he takes his calculated risks is to not "leave all the eggs in one basket."
Mr. Lyles also pointed out to us that we should always aim to create value in our companies. After all, "if you borrow money for value added, you create wealth." By living within our means and investing heavily in creating long-term value, we will create opportunities for ourselves to become successful. It isn't just value added that catalyzes success, however. Another equally important facet is to have a "win-win attitude" and integrity. Business is all about being able to convey your passions and knowledge to those around you, and getting them excited with what you're doing. This helps promote an environment of positive synergy, which is absolutely essential to stay ahead of the world.
One of Mr. Lyles's closing remarks was to always be prepared in business: this way, no good opportunity can elude you. This resonated well with the rest of the class. Many times, we see wonderful opportunities pass by and do nothing about it. By using the advice Mr. Lyles graciously shared with us, we can take advantage of these opportunities. Mr. Lyles is a true entrepreneur, and we are extremely grateful for the knowledge he shared with us.