Laval Entrepreneur Mentor Program
March 13, 2015
Dining Etiquette
"The Lost Art"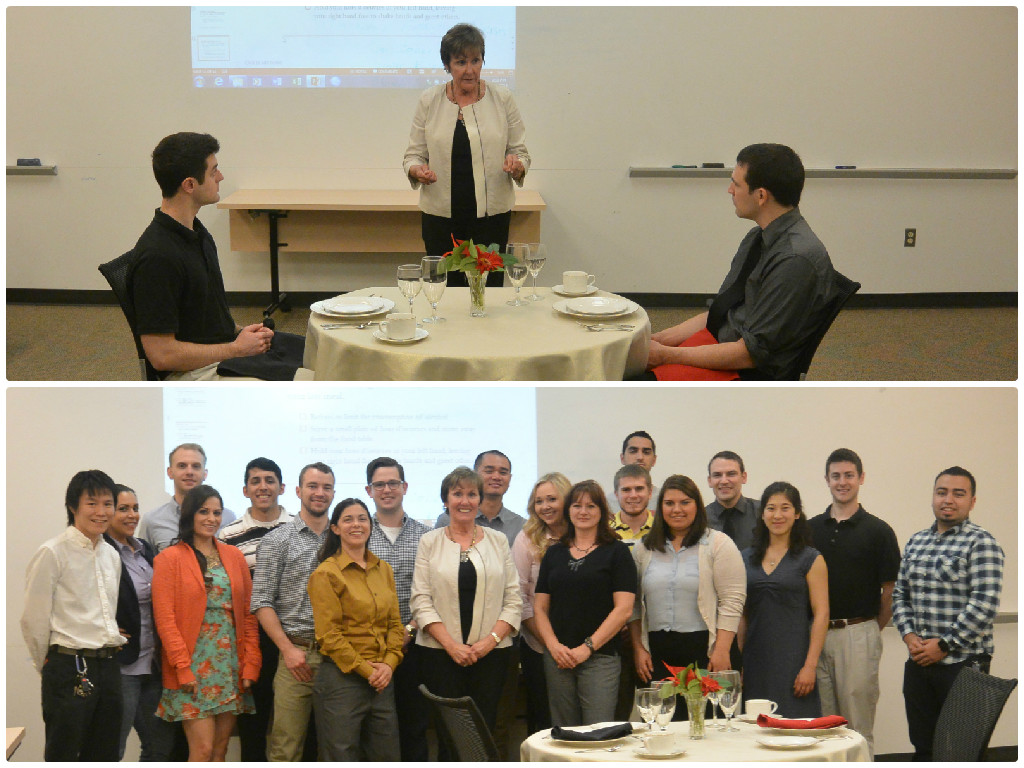 "Social functions are not about the food, it's the contacts you make,"
– Cathy Frost
By: Shannon Sill
This week at the Laval EMP, Richard Ortiz shared his entrepreneurial journey. He mentioned that his interest in being a chiropractor began when he saw a Lexus in the Wal-Mart parking lot on trips with his mom as a young boy, which was always in the same space. The intrigue grew when a brand new Lexus eventually filled the parking space, which he learned belonged to a chiropractor. He decided at a young age to pursue a career that would offer the money to purchase such a car for himself. In college, Ortiz came to the decision to open a Deaf friendly rehab and exercise center. This sparked a lot of questions from the rest of the members.
Makoto Saito brought us a delicious lunch from China Bistro Express, which is located on the southwest corner of Champlain and Perrin (1093 E. Champlain, Fresno, CA 93720). The food was incredible and Saito brought enough to feed an army.
This week, our Guest Speaker was Cathy Frost; we had the pleasure of learning dining etiquette do's and don'ts with her. Cathy is the owner of BennettFrost Personnel, a full service employment staffing company that provides "Human resources with a human touch". Her company is celebrating their 23rd anniversary this month.
Cathy went to college in the Bay Area and worked for a staffing agency during that time. She came back to the Central Valley to work in real estate, but her desire and passion were to open her own staffing agency, which she founded in 1992. She has always felt a deep connection to the Valley and desires to invest in the community. Frost serves on the Hinds Hospice Board, as well as at Fresno State where she is a member of the advisory board for the Craig School of Business, works as an active participant on the Fresno State Foundation Board and is very involved with the Lyle's Center mentor program where she has been a mentor and guest speaker.
Cathy shared with us how she grew up learning proper table manners with her grandmother during Sunday dinners; if she did not use proper manners she was corrected.
Why is etiquette important? Cathy responds, "…it's a lost art; having proper etiquette makes you stand out in a crowd."
According to Cathy, having good table manners involves more than sitting down to dine and knowing which utensil to use; it is comprised of knowing how to hold yourself and portray a professional. "If you don't know, slow down and watch who is taking the lead", Cathy said, as she was explaining what to do as you sit down to eat during an interview. She explained the important part is being comfortable talking to the other person, not necessarily which utensil to use. Her recommendation is to "Shine, what you say is more important."
Cathy proceeded to show us an example of how to properly approach a dining table and used a couple Laval EMP members, Daniel and Aaron, to demonstrate. She gave us a handout that explained simple rules to follow for proper table etiquette: from the importance of the placement of the napkin, to how you place the silverware when you are having a conversation and still eating versus when you are finished. These simple details and how you execute them can make a difference in terms of how the other person views you and perceives how you may conduct business.
"Social functions are not about the food, it's the contacts you make," Cathy said as she was discussing the difference in how one conducts oneself in a semiformal event such as a mentor mixer. Having proper etiquette includes looking an individual in the eyes when shaking hands and opening doors for another, it is about "learning to be gracious."
Her presentation went further than just dining etiquette. She expressed how important it is to be "neat, tidy, clean and polished" when going into an interview. Cathy introduced many concepts and gave us tips to use when we are presented with the opportunity to attend an event where a more professional appearance and demeanor is important. The information she shared throughout the presentation gave us a renewed insight of the value of personal presentation and etiquette in the business world, and more specifically as an entrepreneur.