Laval Entrepreneur Mentor Program
January 30, 2015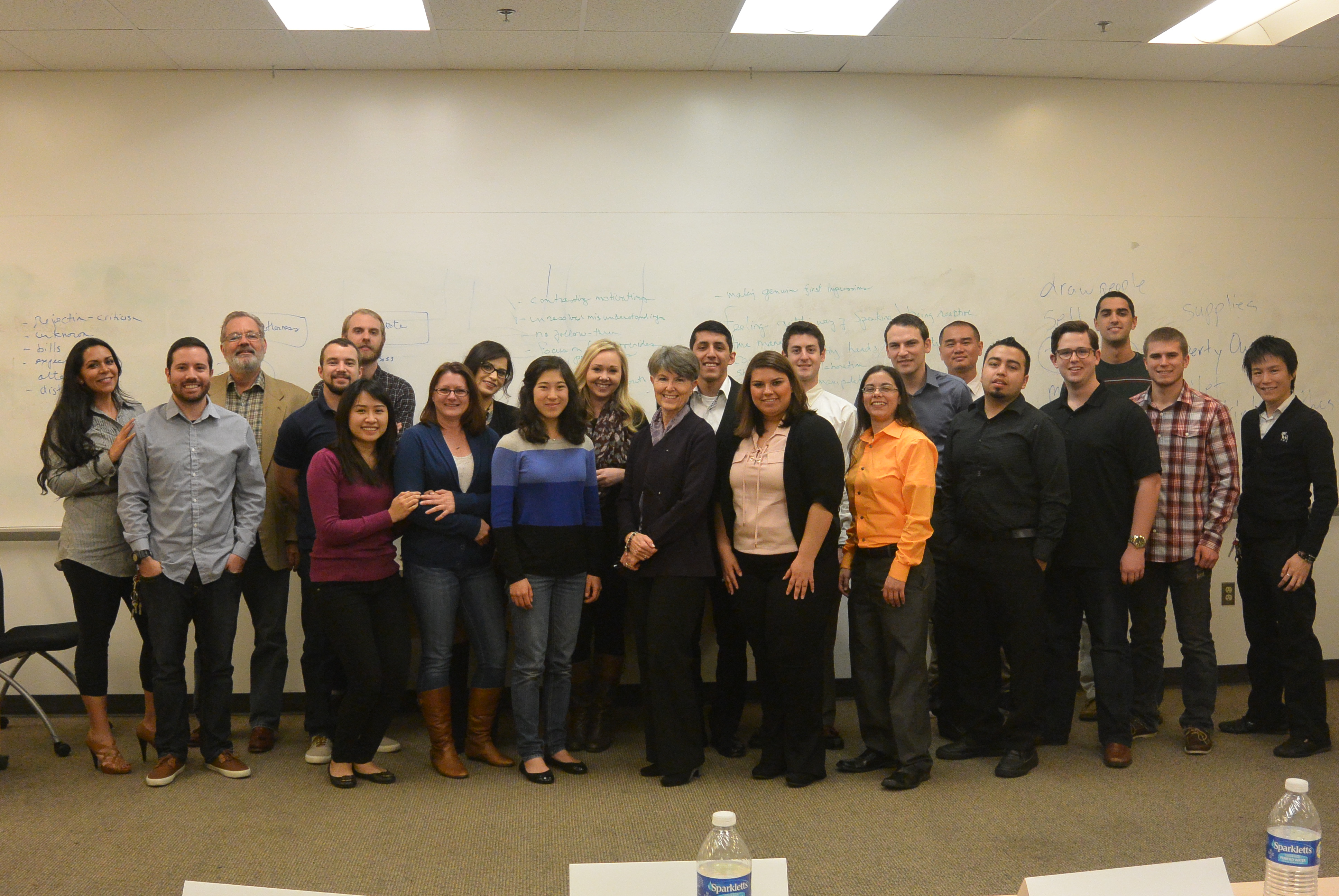 Improving Your Professional and Personal Relationships
"Once you learn how to merge the separation between business and family life,
you have a better chance at finding success in both aspects of life."
By: Kelsey Gallagher
On Friday we welcomed two new mentees to the Laval Entrepreneur Mentor Program. We are very excited to have Aubrey Lim and Eddie Torres join the group to complete our spring 2015 team. Cathy Heinrich provided lunch from Churrasco Grill. The restaurant is a Mediterranean grill located near the Fresno Airport.
Sydney Allred presented her multimedia "entrepreneurial journey" and shared with us some of the struggles and decisions she had to make along the way. We also congratulated Sydney and wish her many years of happiness in her new marriage.
Our mentor presentation was made by Caroline Berry, who started out consulting to businesses in the development of strategic business plans. She currently mentors Sydney Allred. Early on in her professional career, she learned harmony and a shared vision and respect, are as important to success in a family business as using the tools themselves. She is the owner of Caroline Berry Consulting where they focus on helping people bring about the changes they want to have in their lives and to develop skills to prepare for the future.
Caroline started the session by asking the group what we found to be the biggest struggles in our relationships. Whether the struggles were in our work relationship, friends, or family networks. Some of the main struggles identified were time management, balancing relationships, difference of opinions, difference in motivation and commitment, being open to the opinions of others, and standing by one's word. Caroline noted there will be many struggles and tough decisions to be made but one of her favorite pieces of advice "Life isn't about waiting for a storm to pass, it's learning how to dance in the rain."
Ms. Berry said one of the most common issues when consulting for new businesses is they often times try to keep work and home life completely separate. Her advice is to merge the two relationships and create a balance.
"Once you learn how to merge the separation between business and family life, you have a better chance at finding success in both aspects of life."
"There is a force for "Togetherness" and there is a force for "Separation. The force for "Togetherness" is the driving factor. The challenge is finding the overlap. Knowing who you are, is the dominant force. "
Ms. Berry stressed the importance of knowing yourself, who you are, and how you react and handle different situations in life. She expressed four main ideas that are important in getting to know yourself before trying to understand situations and people around you.
Know and understand your culture, background, traditions, and where it all came from. Also being understanding and open to others backgrounds and culture.
Learn how to enduring discomfort and be honest with yourself about your weaknesses. This will help in learning to be open to the opinions of others and understanding when it is your place to add your input. Endurance is about allowing yourself to think through your reactions before reacting in situations of stress.
Stay connected and be aware of your surroundings. Utilize leading questions.
Things can change your point of view. Being genuinely curious and interested in sharing different points of view. If you really want someone to be their best self, it requires that you pay attention.
Thank you to Caroline Berry for taking the time to come speak with us and share advice we will be able to use in our professional and personal relationships. The students really enjoyed the insights.