Laval Entrepreneur Mentor Program
Starting Out the New Year with our Mentor Coordinator Nancy Ervin
January 23, 2015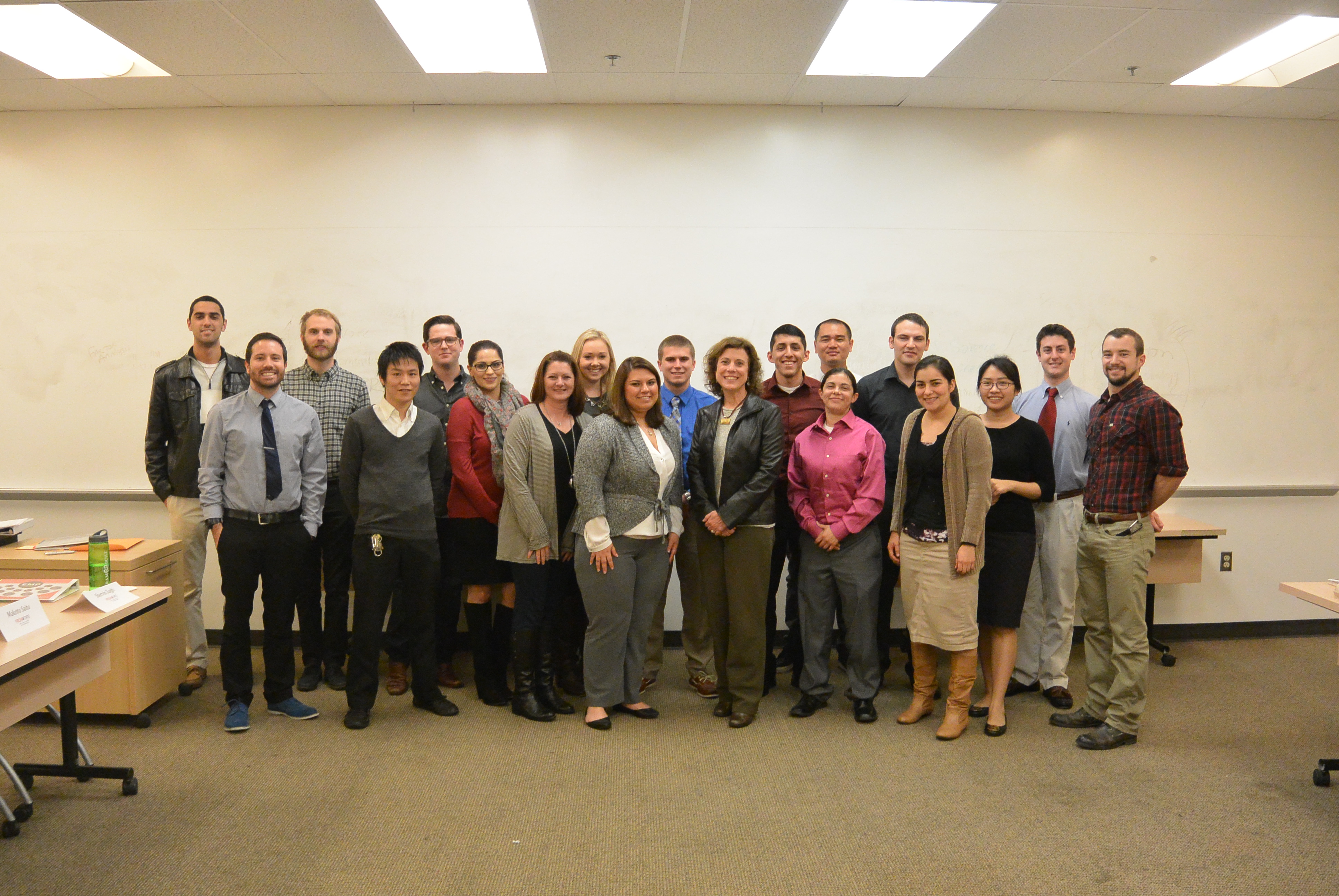 "You can't wait for all the lights to turn green before your drive down the road, but you need to make sure you have gas and your car is maintained." - Nancy Ervin
By: Connor Alstrom
This Friday we welcomed our new members to their first meeting of the Laval Entrepreneurship Mentor Program. We covered what to expect from this spring semester and heard what was expected from us from our new coordinator, Marisela Flores-Hamm. Our mentor coordinator, Nancy Ervin, told us her story and in return listened as we told ours. It was a very fun and exciting meeting leaving us all looking ahead to what, for some of us, will be our final semester with Laval EMP.
Khon Bunsy secured our ever so important weekly lunch from local business, Huong Lan Sandwiches.
Today we welcomed the new EMP Coordinator, Marisela Flores-Hamm. She is a graduate of the entrepreneurship program at Fresno State and is an alumna of the Laval EMP Program. She is currently running a catering company, Casa De Flores Catering, in the Hatchery Program at the Lyles Center. She first discovered entrepreneurship at Fresno City College, where she is a founding member and past President of the Collegiate Entrepreneurship Organization. She brought her entrepreneurial spirit to Fresno State and has always been very involved, especially with the Lyles Center. We are all excited to have Marisela as our coordinator and apologize in advance for the trouble making which is sure to happen!
Nancy Ervin, our mentor coordinator, is currently a partner at Baker, Peterson & Franklin, a position she has risen to without a CPA, a rarity in the accounting field. Nancy was born in Japan, raised in Hawaii, then lived in the San Joaquin Valley on a self-sufficient farm; milking a cow every day before school. For years Nancy moved around the west coast working in all different fields. She moved between marketing, accounting, journalism, raising cattle, trading commodities, veterinary medicine, and business consulting.
After moving around so much and having many different life experiences, Nancy came to Fresno, armed with an MBA from the University of San Diego. Knowing she was looking for the "right" job, Nancy dedicated a significant amount of time to learning about the business environment in Fresno. She realized in order to find a job she would enjoy, she needed to know what she wants out of the job. This is when she came up with her three criteria: the job must be project based, be involved to some degree with the agriculture industry (an industry ingrained in her roots), and needed to work with and for people of integrity. After compromising on those values and accepting a job with the highest pay instead of the best match to her criteria, she learned a hard lesson fast. This prompted Nancy to leave the toxic environment within five days of being hired. She then realized Baker, Peterson & Franklin was the right place for her to grow.
Being a non-CPA at a large accounting firm created an interesting problem. She had very useful skills, but because she was so different than the other employees, they did not understand the skills she had. She began marketing her skills to her coworkers, earning their respect and appreciation in the process. Later, Nancy came to realize this was a definite sign of her entrepreneurial mindset, however, she expressed it as an employee classifying herself as an intrapreneur.
After hearing Nancy's story we had a chance to share our own with the group. The returning mentees conveyed advice to the new members about how to get the most out of EMP and shared some of the expertise and value we have gained from our mentors. The new mentees had a chance to introduce themselves to the rest of the group through an entrepreneurial lens. Nancy, the mentor coordinator, took notes and prompted questions to ensure each new mentee will be matched with the perfect mentor for them.
Thank you Nancy for not only what you do for us at the Lyles Center, but also for what you do for entrepreneurship in the Valley. On behalf of the returning mentees, we are happy to welcome the new mentees: Aaron Cook, Shannon Sill, Quentin Sanford, Angielee Soto, and Shervin Zoghi.
This looks to be a very exciting semester full of fun and rewarding experiences!