Laval Entrepreneur Mentor Program
A Special Farewell
December 23, 2014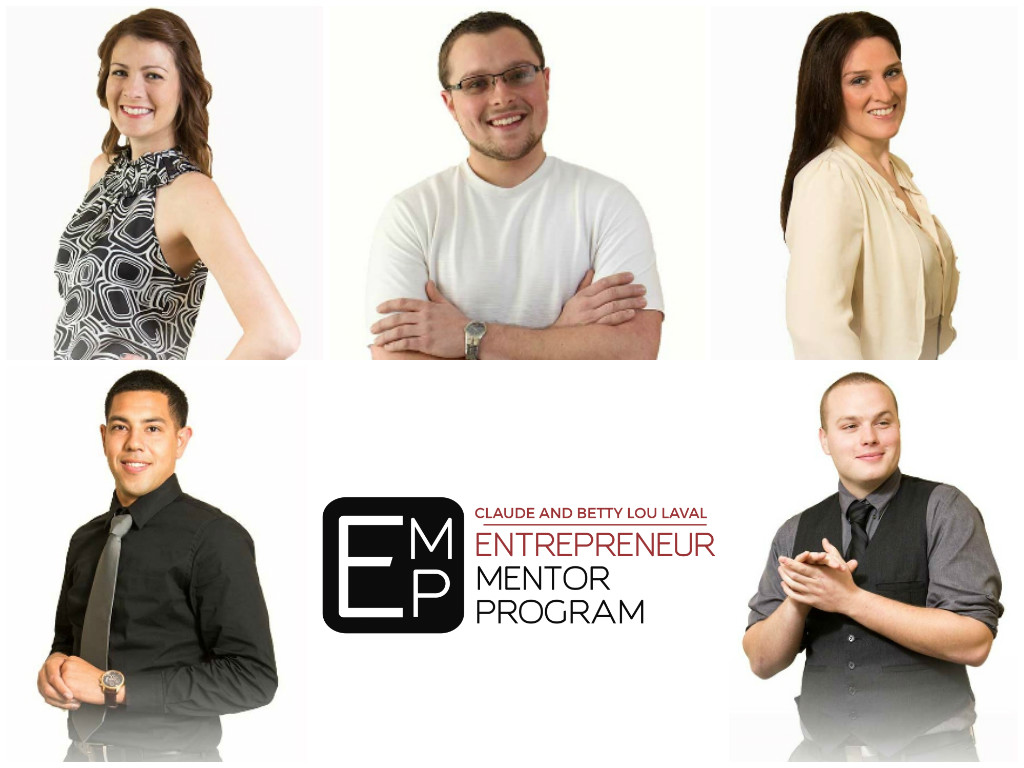 As this year comes to a close, we would like to extend a special farewell to five students who have successfully completed the 1-year Laval Entrepreneur Mentor Program. The students we are saying goodbye to are: Joel Hernandez, Amanda Moore, Maci Steinhauer, Tyler Turk, and Kodey Wells.
Amanda Moore fondly remembers her first EMP meeting, one year ago, "I remember walking into the classroom and still wondering whether I had made a mistake by committing myself for a year to a program I knew nothing about. In the weeks and months following, I recall reflecting on the moment I said yes to joining the Laval EMP and thinking about how I almost missed what would later turn out to be the greatest learning experience I had in college." Other favorite moments our departing students had in the Laval Entrepreneur Mentor Program include the opportunity to meet Mayor Ashley Swearengin and pitching at the National CEO Conference in Orlando, Florida.
"The main objective of the Laval Entrepreneur Mentor Program is to motivate students to establish their own business and to provide them the preparedness to do so," said mentor Ed O'Neil. Our outgoing students acknowledge that what they have learned during their time in EMP will benefit them in their future entrepreneurial endeavors. Tyler Turk has discovered, "Great entrepreneurs CREATE opportunities and learn through experiences. Whether initiating networks, building an audience, or perfecting a model, an entrepreneur has to be ready to roll up their sleeves, and get to work."
Of course the amazing learning opportunities the students have experienced would not of been possible without a group of great mentors. "My life will be forever changed for better because of having Ed O'Neill in my life. He may never take the credit, but I truly thank him for helping me become the man I am today," said student Kodey Wells. Tyler Turk concurred, "I can honestly say without these people, I would not be the entrepreneur I am today. I owe much of my development to them."
The student mentees were not the only ones learning from their experiences with the Laval Entrepreneur Mentor Program. Mentor Steve Vucovich was reminded hard work and passion still leads to success from his mentee Tyler Turk. "I learned to stay positive and to never stop learning!" exclaimed Amanda Moore's mentor Nancy Erwin.
The students who are leaving us this semester are walking away better versions of themselves because of the Laval Entrepreneur Mentor Program. Kodey Wells, who plans to run his own upholstery business agreed saying, "These new relationships I have gained and the future relationships I will gain because of what I have learned will carry me through any obstacles coming my way during my Entrepreneurial endeavors." Amanda Moore affirmed, "The Laval EMP is an experience I will never forget and is an experience I will see the fruit from for a lifetime."
While we are saddened to see these five exceptional students go, we know they have bright futures. They are all going down different paths, but we know they have been provided the skills and knowledge needed to reach their destination successfully. Thank you for your participation and congratulations on successfully completing the Laval Entrepreneur Mentor Program. We wish you the best of luck in all of your entrepreneurial endeavors!