Laval Entrepreneur Mentor Program
Laval EMP Visits The Betts Spring Company
February 27, 2015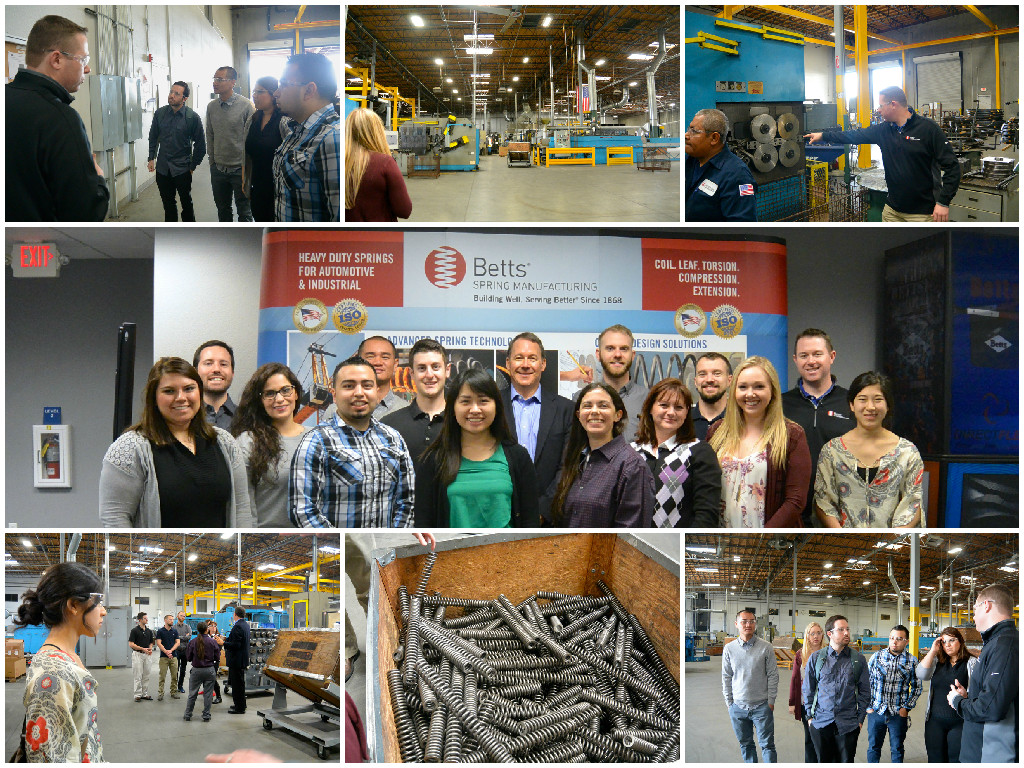 "Everybody in our business has extreme passion for what we do." -Mike Betts
By: Chaz Phillips
There are few family owned companies that can proudly say they have held business for over 140 years and spanned six generations. The Betts Spring Company is one. With their specialized niche in springs for car and trucks, as well as a multitude of other successful branches within the company, Betts Spring Company has separated itself from its competitors for their ingenuity, passion, and dedication to its customers and employees. Both in their springs and in their lives, this company is about "improving the way things move."
On Friday February 27, the Laval Entrepreneur Mentor Program students were invited to Betts Spring Company headquarters in Fresno to see the operation firsthand and to hear from Mike Betts, president of the company, and Joe Devany, Head of Operations. After being treated to lunch, Joe Devany spoke to us about what Betts Spring Company is all about. He shared the long and impressive history of the company and how it started with an immigrant blacksmith who saw an opportunity to make leaf springs for horse-drawn buggies. The business was successful, even surviving the 1906 San Francisco Earthquake, which completely devastated the building. William Betts was determined to continue and rebuilt the business from the ground up.
The Betts family translates the success they have had in the past to the present with their continued investment in people and their products. Betts shared that one of their biggest goals is to be "Employer of Choice" in the Central Valley, by creating a company culture and incentives to hire the best talent they can. To achieve this goal, they have rebranded their company with a more modern look, and follow the "lucky 13" points in their "playbook" of strategies of success within the family company.
For the second half of the visit, the students were given a personal tour of the multiple warehouses on the site. They were able to see how the springs in the Betts Spring Company stand above the rest, with their specialized and state-of-the-art production process. They were shown how mud flap holders could mean the difference in life and death. Truck service is given a personal touch in their Truck Parts and Service section, where both professional drivers and car customers can purchase parts from a representative at a counter. If we were on a search for impressive and innovative warehouse operations, the search would have concluded quickly at Betts Spring Company.
At the end of the tour, Mike Betts, knowing that the Laval EMP students have exceptional creativity and innovation skills, challenged the students to think of an idea to profit from the large amount of scrap metal they have on hand. "The next million dollar idea could be right here in your hands!" We hope to meet that challenge head on, and thank you and your company very much for your time and energy.