Laval Entrepreneur Mentor Program
The Myers-Briggs Type Indicator (MBTI) & Leadership
February 20, 2015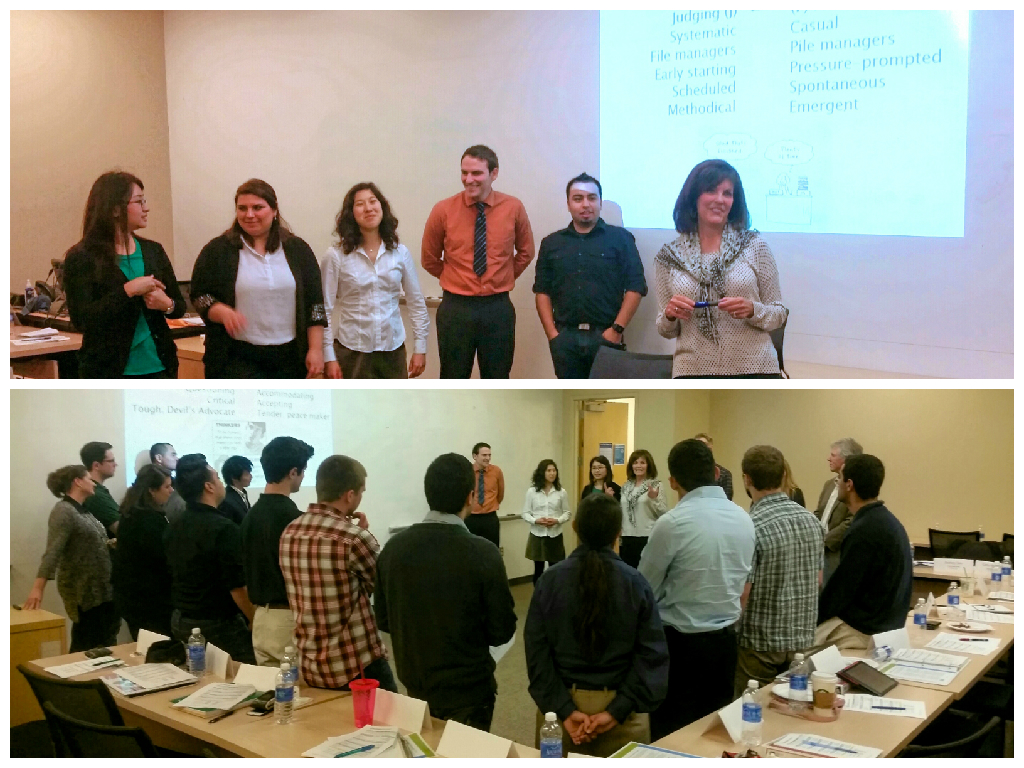 "Flex and adjust your Leadership style, while you're working with others"
-Dr. Diane Love
By: Sydney Allred Locke
This week the Laval Entrepreneur Mentor Program had the privilege of hearing a presentation from Dr. Diane Love on MBTI & Leadership, Using the MBTI to Understand Your Leadership Style. Dr. Love is a world-class executive coach, leadership and team trainer, and author. After 20 successful years in corporate America she became an entrepreneur when she founded Successful Solutions, LLC in 1997. She is renowned for her leading edge research and work using the Myers-Briggs Type Indicator (MBTI) in business and developing the protocol for linking personality type and experiential learning to professional business objectives. Her husband Steve accompanied her to our meeting.
Diane highlighted the importance of knowing the differences between personality types, and adjusting one's personality to make others feel comfortable. She emphasized the importance of having the ability to read others around you. Similarly, the ability to adjust to one's personality to meet another's is important in finding and maintaining success in business. She noted to the class that executives have said the number one problem they run into is "working with people."
Dr. Love's objective is to teach individuals how to "understand and better communicate with others" through knowing and utilizing the four categories composing personality types. It is important one not only looks for traits suggesting a personality type in others, but also that they look within themselves to determine what personality type they have. The four categories of personality according to the Myers-Briggs Type Indicator are energy, gather information, make decisions, and life style. Energy refers to whether an individual is extraverted or introverted. Gather information refers to if one gathers their information though sensing or using their intuition. Making decisions refers to whether an individual bases their decisions off of logic or how they feel. Finally, life style refers to whether one is systematic or casual.
With the help of Mr. Love, everyone in class determined what type of personality they have. Diane taught us how to adjust our personalities by having us work with classmates with opposite personality traits. She referred to this as "flexing and adjusting your style." She taught us how to pay attention to the little things people do in order to pin point their personality, and determine how they are feeling in the moment. When one pays attention to discrete gestures, or the words people use Diane calls it "staying off of autopilot."
In addition to having Dr. Love as our guest speaker, mentee Makoto Saito presented his entrepreneurial journey to the class. He talked about his life growing up in Australia and the United States, but being from Japan. He reflected on the people who helped him along his entrepreneurial journey. Makoto is very interested in importing and exporting goods and would like to someday own a business involving importing and exporting.
During Friday's meeting Dak Feaster provided a delicious lunch from Little Peking Chinese Gourmet Restaurant. The restaurant has a four star rating, along with rave reviews on Yelp. He brought vegetable fried rice, chicken and steamed rice. In addition to having tasty meat dishes, the restaurant also has a vegetarian menu very popular with customers. The restaurant is located on the south west corner of Cedar and Nees. The address is 7975 N. Cedar #104 Fresno, CA 93720. Shannon Sill was also very kind and brought homemade cookies to the meeting.