Laval Entrepreneur Mentor Program
EMP Heads to the Fulton Mall
February 12, 2016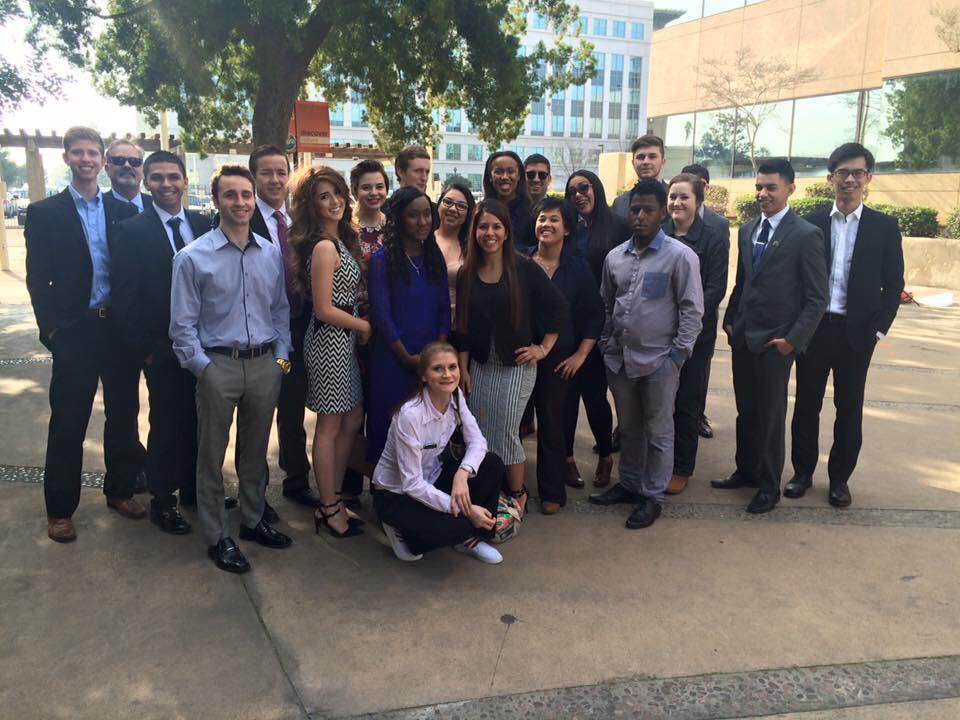 "Eat at a chain and you support that business. Eat at a locally ­sourced pub, like Peeve's, and you're not only supporting that business, but the local cattle rancher, farms, wineries and breweries. All of that money remains in our economy." — Craig Scharton
Written by: Jed Soberal
Last Friday, the Laval Entrepreneur Mentor Program (EMP) was held in downtown Fresno where mentees participated in an EMP photoshoot for the class of spring 2016. As the Fulton Mall will be reconstructed this year and opened to traffic for the first time since 1960, the group photo aims to capture the heart of the Mall as we know it today.
Lunch was hosted by Peeve's Public House and Local Market, a favorite restaurant among locals that sources all its products from the Central Valley. As Peeve's menu changes monthly, the mentees indulged in February specials such as Mushroom Lasagna, the Bank of Italy Burger, Apple Butter Grilled Cheese, and the savory Peevester Dog adorned with bacon mac and cheese.
Students heard from Craig Scharton, owner of Peeve's Pub and Fulton District Manager at the Downtown Fresno Partnership. Scharton shared on the ethos of supporting local businesses. "Eat at a chain and you support that business. Eat at a locally ­sourced pub, like Peeve's, and you're not only supporting that business, but the local cattle rancher, farms, wineries and breweries. All of that money remains in our economy," Scharton explained. Learning directly from local leaders is just one of the benefits of being part of EMP.
After enjoying the meal, Roe Borunda, photographer and owner of Roetography, organized the official Laval EMP class of spring 2016 photo. Mentees were placed among a few of Fulton Mall's most iconic art pieces. With groundbreaking scheduled to begin as early as next month, it promises to be a very memorable photo.
EMP would like to thank Craig Scharton for a delicious lunch and for sharing his valuable wisdom.