Laval Entrepreneur Mentor Program
Driven to Succeed
April 10, 2015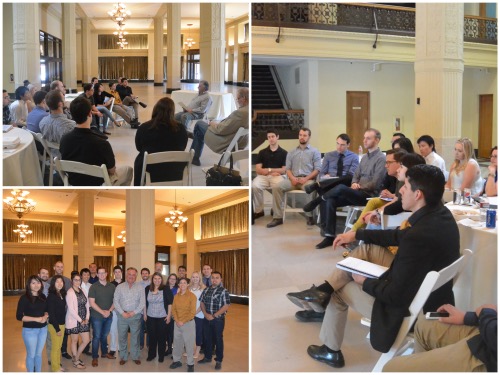 "The harder you work, the luckier you get" –Cliff Tutelian's Father
By Aaron Cook
The Laval Entrepreneur Mentor Program went downtown to meet with Cliff Tutelian in his wonderful old building called "The Grand," across from the Warnors Theatre last Friday. We were awed by the elegant polished brass doors, the floor to ceiling ornately engraved columns, the marble floors and beautiful light fixtures. Cliff provided delicious deli sandwiches for lunch and sat with us to learn about our upcoming EMP food projects, which we will be presenting soon. Cliff gave us some advice on food packaging and regulations.
After we finished eating, Cliff shared his entrepreneurial journey. He talked about his dad's trucking company and how he worked hard for his dad while he was growing up. By the age of 12, Cliff was washing trucks. Sometimes the trucks smelled bad because they had been hauling turkeys all day, but it smelled like money to Cliff. Around this time, Cliff went to military school where he learned about discipline and how to work with people from different backgrounds. In 8th grade he convinced his dad to let him get a job in Washington DC as a pageboy for Congressman B. F. Sisk. He worked there for two years and got a better understanding of how the capital works.
When Cliff was young he did not really want to go to college, but his dad had him working so hard that Cliff felt that college would be easier, so he went to law school. Cliff's dad had told him that in college "you learn how to think and how to do something you don't like to do." In college, Cliff chose to buy and sell cars to help distract him from the stress of being in school. Out of law school, he worked for a friend of his dad who was a developer. He ended up quitting that job because of pressure from his dad. Cliff regretted this decision because he is not a believer in quitting.
At age 20, Cliff started working for his dad again at the trucking company. After an incident with an employee, Cliff's dad handed him the keys to the operation and told him to run it without him. Cliff learned on the job by working day and night and eventually he had the place running better than it ever had. He learned through this experience that with employees, "you cannot always make them like you but you can earn their respect". Later on, Cliff sold the trucking business after increasing its value tenfold. He then got into developing and did very well. Cliff eventually was able to buy commercial properties all over Fresno. Cliff is now working to revitalize downtown. He believes in Fresno's potential.
When Cliff finished sharing his story, he talked about his building, "The Grand." When he bought the place it was a mess. The basement looked like a "spook show," the doors were cheap, the wiring was shot, and the plumbing was bad. It took lots of hard work and money to get the place up to standards, but now it looks amazing.
Cliff then talked to us about entrepreneurship. He said that we all have "different backgrounds" and "we process things from where we are." These experiences give us unique advantages. Also, he said that in business, unlike school, "all-nighters don't work." For the tough projects it's best to go at them head on and get them over with fast. This makes people work harder and collaborate more. Above all else, Cliff advised us to never give up!