Laval Entrepreneur Mentor Program
EMP Meets Mendy Laval
December 9, 2015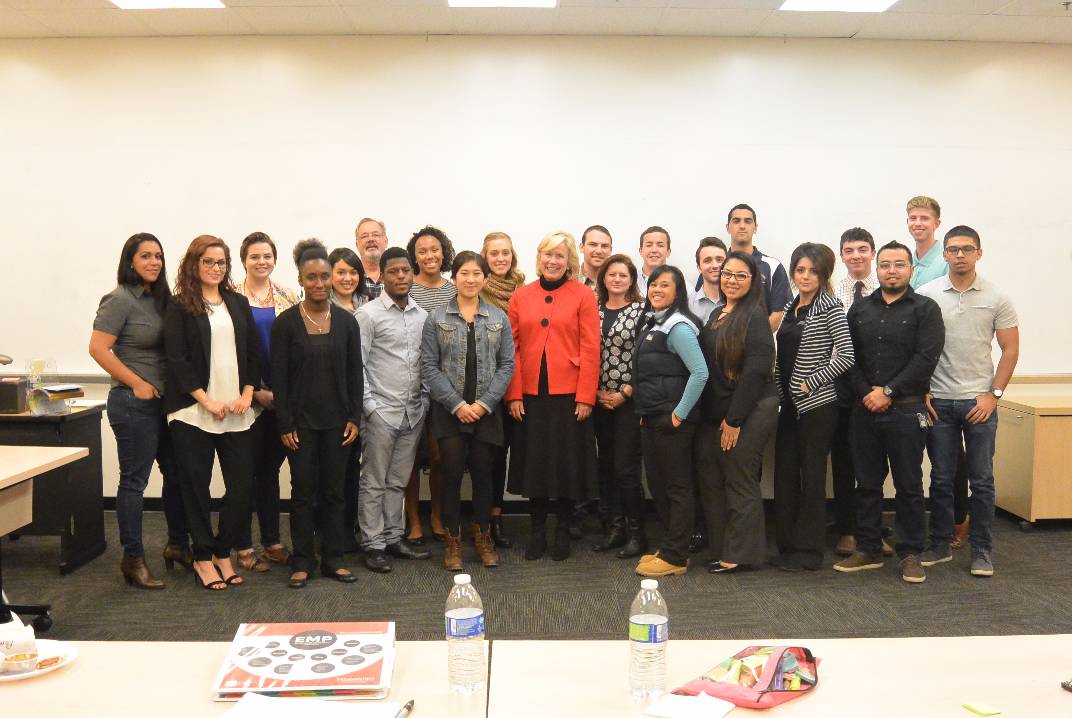 "You have to be willing to turn right, left, or make a U-turn"
-Mendy Laval
Written by: Javier Villalobos
Last week, the Laval Entrepreneur Mentor Program (EMP) students had the amazing opportunity to meet Mendy Laval, former president of the Claude Laval Corporation (LAKOS) and strategic advisor for the Lindsay Corporation. She shared her inspiring journey and encouraged us to embrace the different routes we must take to achieve our goals. "Every journey has railroads," Mendy said, making sure we understood there are many ways to accomplish a task.
Mendy shared the experiences which eventually led her to run a business alongside her father, Claude Laval. Throughout her journey, Mendy said, she overcame obstacles and doubts many women in her position would have walked away from. "You have to be willing to turn right, left, or make a U-turn," she said, urging us to think outside of the box and get the job done. Her understanding of international business and corporate entrepreneurship made her successful when working with other countries. This success made it clear to her father Mendy was the perfect candidate to run the international part of his business.
Mendy also spoke of her future plans, including those which involve Fresno State and the Lyles Center. Mendy's passion for entrepreneurship led her to accept Dr. Stearns' offer of serving as the Lyles Center's Intrapreneur in Residence. In this position, Mendy will provide students with guidance, insights and understanding of how to be effective in a corporate setting by applying entrepreneurial and innovative skills.
EMP is grateful to have a mentor like Mendy Laval who is willing to help us find our own journeys. EMP mentees would like to thank Dr. Stearns and Marisela for making these life-changing events possible. Mendy's time and efforts are appreciated to the fullest and we can't wait to see her positive impact at Fresno State.